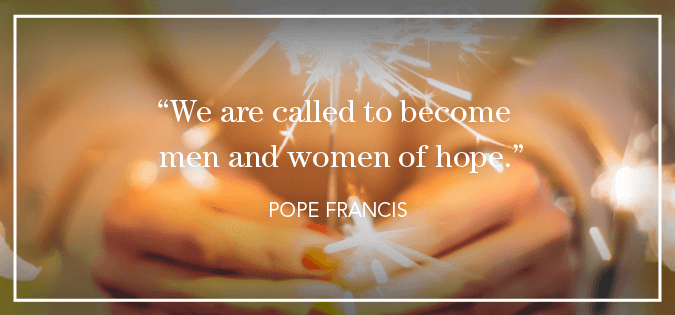 It seems like most of us have a friend or family member who, despite having lousy luck at times, is nearly always smiling and is constantly giving of him or herself, even when he or she is the one who could really use a little help. I am blessed to count a few of these kind souls as my friends. But what makes these people so sweet and generous despite whatever life throws at them?
Perhaps a glimmer of the answer lies in this story of one of my friends. My friend had been trying to conceive and had just suffered her second miscarriage. As it turned out, her friend was dealing with her own struggles in trying to conceive. The two of them were drawn to a cathedral where they prayed together through the night. There, in the stillness of the dimly lit church and through the intercession of the saints, they brought their broken hearts to Jesus, and they prayed about God's will for them. It was a difficult but holy night that my friend will never forget.
What drew them there and into prayer that night had to be hope. Why else would anyone find themselves at the foot of the altar to pray, if not in the faithful hope that God would heal, guide, and save? Hope is such a powerful thing! It pushes us forward; it eggs us on regardless of where we are in our lives. Without hope, without some expectation of something good waiting for us down the road, we get stuck.
Pope Francis reminds us that, "We are called to become men and women of hope." Those people in our lives who smile despite the bad and who reach out to help those around them no matter the cost, these are our living examples of men and women of hope. They aren't mired down in whatever they are living at the moment; rather they have their eyes steadfastly set on what could be. That vision pushes them forward.
Hope is in the face of a newborn baby. Hope is in the first flower peeking through the last of the winter snow. Hope is in the first burst of laughter after a dark moment. Indeed, it is hope that sets our eyes like flint on Jerusalem (Luke 9:51), with the ultimate hope of being united with our Savior at the end of our journey. During this season of Advent, let us pray to be "people of hope," as our dear Pope so wisely encourages.
P.S.: God provided a joyful ending to my friend's story. She gave birth to healthy baby girl, and weeks after that, the friend who prayed with her had a healthy baby boy.
---
Download a poster of the Pope's words: "We are called to become men and women of hope." And read more On Hope in Pope Francis's new book.