St. Robert Bellarmine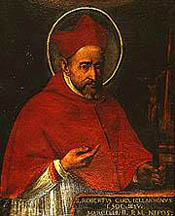 , noted for his intellectual prudence in the case of Galileo and the Counter-Reformation, and his great humility despite his position, is also remembered for his tenderness and devotion to the poor. He wrote, "The school of Christ is the school of charity. On the last day, when the general examination takes place, there will be no question at all on the text of Aristotle, the aphorisms of Hippocrates, or the paragraphs of Justinian. Charity will be the whole syllabus."
Lord, how are my studies coming for this test?
—Excerpted from 2014: A Book of Grace-Filled Days by Elizabeth M. Kelly