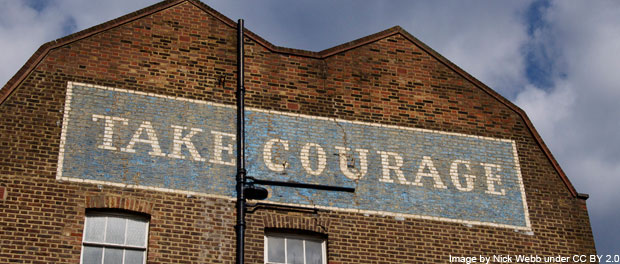 One thing about Ignatius—he had courage. Common sense isn't always apparent in his early life; humility came later, too, and Ignatius grew into his relationship with God, as we all do. But whether it was misdirected or not in his youth, his fearlessness has always been apparent.
Maybe because I never feel like I have enough courage, Mark's Gospel about Bartimaeus caught my attention recently. The blind man sits at the side of the road begging until he hears that Jesus is passing by on his way out of town. He puts up a fuss—another thing I am not likely to do. He starts yelling for pity and even when people try to silence him, he continues to yell for Jesus.
But then Jesus realizes someone needs him and tells the crowd to send Bartimaeus over. They say to him, "Take courage; get up, Jesus is calling you."
What an amazing thing: Bartimaeus' call to healing starts with the words, "Take courage." He is told to get up and get going—"Jesus is calling."
Some days the idea of Christ calling me makes me want to stay in bed and hide under the covers. What does he want now? What kind of hard thing will he ask me to do? Will it be too big or too difficult for me? Take too much courage? Apparently, whining goes hand-in-hand with fear in my prayer life.
But it's not just the crowd inviting me to courage—it is Jesus, who says it over and over again to his disciples and to me. I can tremble with what Jesus might ask of me. Will it be to step before hungry lions in the Coliseum, stand in front of the oncoming army of an unjust government, or join with Mother Teresa's sisters in India? OK, probably not.
Maybe courage is really the invitation from Jesus to have a big heart. Could it be that Jesus just wants me to live the way he lives—with love and compassion for others—and be unafraid when it comes to speaking up for the poor?
Pope Francis recently suggested to a group of students and teachers that they be magnanimous. He said:
What does it mean to be magnanimous? It means to have a big heart, to have a great spirit; it means to have great ideals, the desire to do great things to respond to that which God asks of us, and exactly this doing of daily things well, all of the daily acts, obligations, encounters with people; doing everyday small things with a big heart open to God and to others.
So maybe the real call from Christ is simply to live my own life doing the daily things well and doing them with a big heart. Not very dramatic, but challenging. I just need to remember that it is Jesus who is calling me and who is with me.
And on the days we want to pull the covers over our heads and stay in bed, we get up and take courage. Jesus is calling us to be healed.
Image by Nick Webb under CC BY 2.0 license.