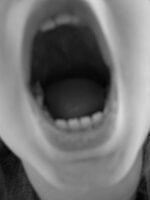 After eight days of silence and stillness on my retreat at Eastern Point Retreat house, I was ready to return to the noise of my life—the "Mom, guess what?" The "Mom, can you hold me?" The clatter of little feet on our kitchen floor. The boisterous shouts of our children playing together that turn frequently into fits of laughter.
I was ready to return to conversations with my husband that often occur in snippets between tying a kid's shoe and pausing to help a child with a task. I was ready to return to the delicate balance of work and family.
The retreat provided much rest and time to refuel. God surprised me with many gifts and graces during our extended time together. As the retreat ended, though, I knew it was time to return home, to my daily resting place. While God was readily found in the complete silence and stillness of retreat, my call was not to stay there. My search for God and the deepening of my relationship with God happens within the busyness of life. I am called to live as a contemplative in action. My call is to seek God daily amidst the beautiful racket of my life. Just as God found me in the silent and still moments of retreat, I am now more aware that God, too, will find me in the sound and motion of everyday life.