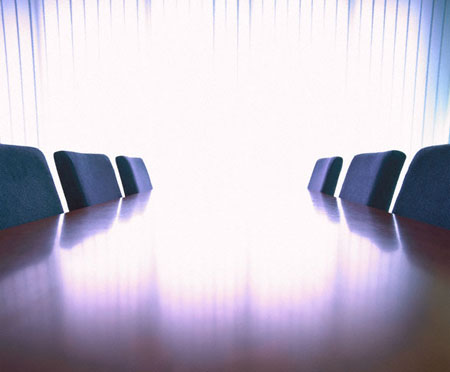 There is a never-ending committee meeting that rattles in my mind. It sounds like this:
Don't forget to pick up apples at the grocery store"¦.I wonder what Sam thought about that conversation we had earlier today. I bet he thought I was too hard on him"¦.How many apples do I have left in the refrigerator? Maybe I don't need to stop at the store"¦.Do I owe Sam an apology? Maybe I should call him. Never mind, that would be awkward"¦.I'll just wait and stop at the grocery store tomorrow.
From the mundane to the interpersonal, it is rarely quiet inside my head. There are many voices who sit at my proverbial conference room table—Jealousy, Anxiety, Gratitude, Hope, Forgiveness, Fear, Pride, Lust, Humor, Love. In the midst of all the chatter, one of the great gifts of Ignatian spirituality is the ability to discern the voice of God.
Silence
The voice of God speaks most clearly when I make room for silence. Like Elijah in the cave, I have learned to trust the still, small voice, which often takes the form of a quiet nudge or a fleeting moment of clarity. When I'm committed to spending time with God in silence, I'm better able to recognize and trust those flashes of insight ("Just pick up the phone and call Sam.") in the midst of the chaos.
Consolation and Desolation
Thanks to the Ignatian exercises, I am more profoundly aware of the movements of consolation and desolation, even in my small daily decisions. Ignatius describes consolation as water falling on a sponge. When our hearts are aligned toward God, words of consolation gently fall onto our hearts and draw us deeper into the heart of Christ. Although stopping at the grocery store may seem insignificant, I feel better when I make healthy food choices, and I have more energy to do the work to which God has called me.
Desolation, on the other hand, draws our attention away from God and distracts us from doing God's will. Ignatius says spiritual desolation sounds like water hitting rock. It is jarring, and it slowly erodes my sense of right judgment. Even when I take my conversation with Sam into prayer, I have the propensity to imagine the worst-case scenario! I get anxious about all the horrible things Sam might say, and I fear that I've been a bad friend. (That's desolation!)
Examen
It is often at the end of the day, when I sit down with God and review my "meeting notes," that clarity reigns. I first ask God, "Show me this day from your perspective." Then without judgment, God and I walk back through the day. I hear God's voice calling me to greater friendship, forgiveness, and good health. I also hear myself giving in to anxiety and fear. I am grateful for all of these insights and most grateful for God's love despite my shortcomings.
And then, for one day at least, the committee is adjourned!