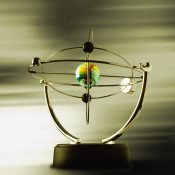 About six months after I finished making the Spiritual Exercises, I was chatting with a couple of colleagues at the college where I teach. One asked me how my time away had been. When the other wondered what I'd been up to, I said I had taken four weeks to do some contemplative exercises at a retreat house in Massachusetts.
"Oh, did you make the Spiritual Exercises?"
"Ah…yes," I stuttered in surprise. She had assigned the Exercises as a reading for a Spanish art course. What was it like, she wondered, to experience the Exercises, not just read them? And what drove me to do them in the first place?
It was a good question. What do I—a middle-aged mother of teenagers and scientist—find so compelling about a spirituality birthed in a 16th-century Europe awash in mystics, pilgrims, and explorers? All that. Its mystical nature, its sense of being on pilgrimage, its way of seeing how God permeates the ordinary.
I am challenged by an approach to life that is "all in"—offering a springboard from which to take the mystic's leap into the unknown and the unknowable, pouring everything I have into God's enormity. "I surrender it all to you," declares the Suscipe, the prayer that Ignatius suggests a retreatant might be drawn to offer in the final movement of the Exercises.
Ignatian spirituality pushes me to recognize that I'm a pilgrim in this world, clutching a rough map, but not always so sensible of conditions, to borrow a phrase from Annie Dillard. The daily habit of the Examen helps me be aware of the road conditions. It keeps me on the path God has limned out for me and keeps me moving forward with intention.
Perhaps because of my scientific bent, I appreciate Ignatian spirituality's attention to the details not only in prayer, but in all of life, including my laboratory. In his 1952 Nobel Prize address, physicist Edward Purcell observed:
I have not yet lost a feeling of wonder, and of delight, that this delicate motion should reside in all the ordinary things around us, revealing itself only to him who looks for it. I remember, in the winter of our first experiments, just seven years ago, looking on snow with new eyes. There the snow lay around my doorstep—great heaps of protons quietly precessing in the earth's magnetic field.
Like Purcell, I delight in eyes to see what resides in the ordinary things, the wonders that lie just beneath their surface. Ignatian spirituality stirs up in me the desire to seek God in all things, to be on the lookout for what God wishes to reveal to me in the everyday pieces of my life—in the laboratory as in my kitchen, in conversation with my teenagers as in prayer. God in all things? I'm all in.