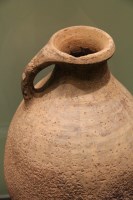 Ignatian contemplation is most often associated with praying imaginatively with a scene from the Gospels, but I also find praying with particular simple images to be fruitful. One image that I have found helpful in prayer is the image of the "earthen vessel." A former spiritual director introduced me to the hymn after a particularly powerful retreat with many graces. It expresses beautifully the paradox of being a human being, with all our frailty yet also graced by God with many gifts:
We hold a treasure not made of gold

In earthen vessels, wealth untold

One treasure only, the Lord, the Christ

In earthen vessels.
This image of the earthen vessel is even more deeply rooted in the story of the creation of Adam and Eve. The term adam in Hebrew is the masculine form of the word for "earth." All human beings are like dust and to dust we shall return (Genesis 3:19). Yet we are not simply dust, but dust infused with divine breath. When God creates Adam, he breathes his own life into that dust. Throughout our prayer lives, we find ourselves living in this tension, between our breakable nature and fallibility, and our capacity for holding the divine within ourselves.
In times of change, I have found praying with this image of an earthen vessel to be helpful. I recall once when I was grieving the loss of a person dear to me, I offered God my feelings of emptiness and sorrow in the form of the image of an empty jar. I imagined that my sadness was there inside the jar and offered it to God. I then asked God to return the vase to me to show me what he wanted me to do next.
What God returned to me was the vase reshaped into a beautiful clay flower vase, smaller but cobalt blue and a bit more ornate. The vase contained blossoming pink peonies, flowers commonly associated with weddings. Even in the midst of my sorrow, God was pointing me to the happiness in my marriage and promising me comfort and flourishing there. While the image did not entirely remove my feelings of grief, I was reminded that it's often in being emptied of one thing that we make room for another. Indeed, it's in our emptiness and offering that emptiness to God that we make room for God himself to enter in.