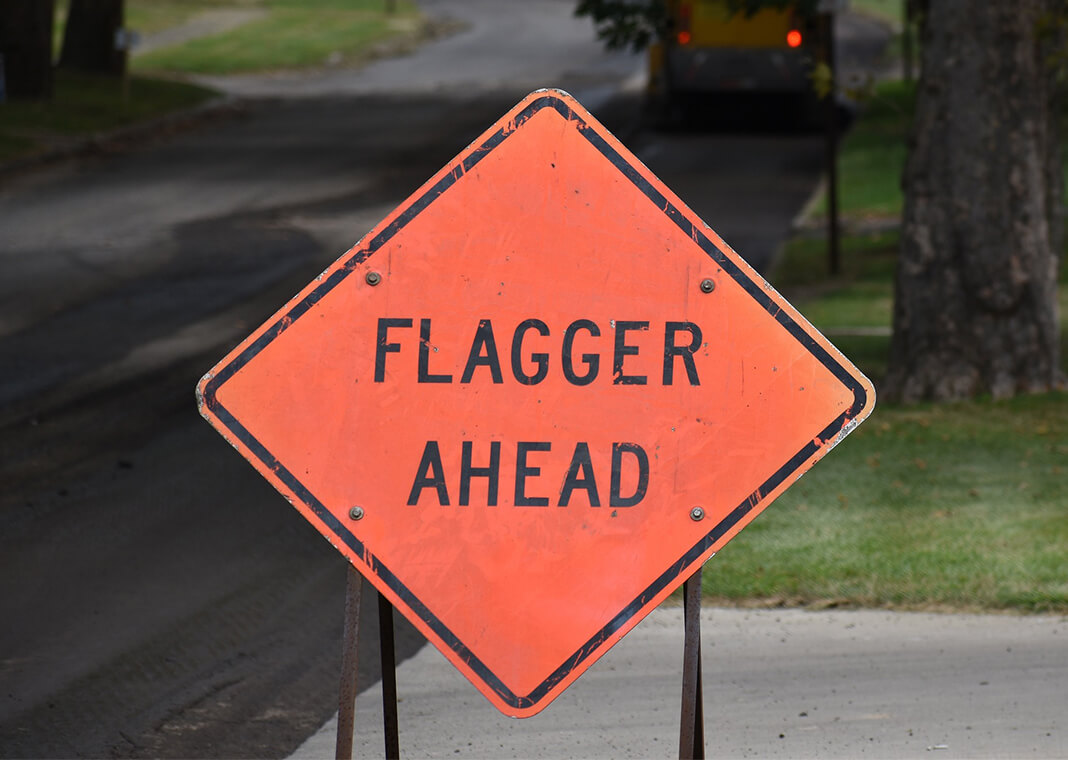 Eight hours a day the flagman stands outside my apartment as construction trucks begin work on a new building down the cul-de-sac. Few cars pass, but he must stand there all day.
It's monotonous work, I judge, and I wonder about his life. After several trips not acknowledging him when I leave my parking garage, I pause and say, "Hello," through my window. "How ya doin' out here?" I ask.
He responds with enthusiasm despite expressing weariness as his workday nears its close. He's going to a prayer and worship event tonight, and he hopes his friends will save him a seat. "I hope I can stay awake," he admits. Ah! He is a believer. I say I believe God will meet him there. Now he knows, too, that we both are in Jesus' family. We discuss some of our favorite Christian rock artists. The 30-something flagman chats freely and happily, and I smile, but I'm absorbed with where I'm rushing to be. When I return from the store, the workers have all gone home.
On Monday at 6:45 a.m., I glance out my window during prayer and notice the flagman arriving early for his 7 a.m. shift. He drags a sign down the road to alert cars that he will be up the road, telling them to slow down or stop. How responsible he is! I regret judging that his is not the best job.
I decide to pray for the boss walking past. He barely looks at the flagger who greets him kindly. I pray for the safety of all the arriving workers. The flagman holds his sign.
Jesus stands outside my window with the message, "Loretta, slow down." And sometimes he tells me to stop. Consider. Pay attention. Notice.
Jesus wears a hard hat and neon vest. His back is to me, but he is there, a sentinel to focus my busy list.
My windows are open to collect the morning coolness. I turn the sound bar of our widescreen TV to the opening and blast out Christian music. I watch as the flagman turns. I smile and wave from my second-story window. He tentatively lifts a hand.
I go to the balcony and say, "Hello." "I wondered if you were waving at me," he says. "I just said to a coworker that I wish I could play some Christian music, but I didn't think it would be professional."
His remark catches me off-guard. I didn't expect such care from a flagger. How seriously he does his job, and with pride! Of course he does. He is Jesus, standing outside my window. What he does is very important. I made assumptions about his career and mine.
As far as we know, Jesus lived an unremarkable life in Nazareth for 30 years. What did he do of value in that time? Maybe he was a flagman for carpenters and construction workers in his neighborhood.
In the flagman I see Jesus, who held up the sign of the cross with his body.