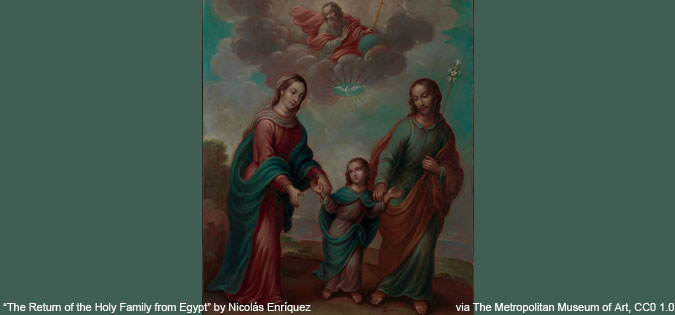 That Christmas, when we were in love, he gave me a watercolor he'd done some years before of the Holy Family's return from Egypt. He explained that, while he was painting it, he knew it was to be given away, but he didn't then know to whom. As he painted, he was thinking about what it would be like to be really at home, to be in the place where you belong for all time. He said that, because my heart had become such a home for him, I was the person for whom the work had been intended.
I was filled with deep joy and amazement. I thought God might, in the future, call us to marry, but I was sure we'd always stay soul-friends no matter what. Either way was fine with me. We had each been given a true home in one another's hearts, a partner and support in the work of building God's Kingdom.
In the end, God had different plans for each of us, and we're no longer in touch. But I'm grateful for the many gifts I received through this relationship, including the insights gained from pondering how Mary must have felt as she returned from Egypt, and what the ponderings in her heart might have been like. This poem is written in her voice, and in mine.
The Return Home
It's been quite a ride.
Promise pushed us on,
a hope, a belief in things unseen;
like those men who followed a star.
God has guided every step,
and over and over we gave our "yes,"
to Will and Wisdom bigger than us.
So much to ponder,
how it's all turned out,
and what will be, what may be,
God's hand hidden here,
God's love revealed here.
Soon, I'm sure, we'll see it, over that last green hill, and home;
that for which we've waited all our lives, it seems;
(so often we knew we were longing for something;
something for which we could seldom find words).
How our God provides,
and how our God prepares a place for each;
(how often He hides it in the heart of another).
When we get there, it will not be over;
still we'll build the Kingdom incarnate,
on every path, in every step,
even in those we've known all our lives:
"Come, reside in the heart of God, who makes His home among us here!"
But soul-in-soul, it's so much easier.
Do you know what it's like to be in the place you belong for all time?
To taste it and know it will never be taken away?
That's where I am now;
I'm home.
Three miles to Nazareth, I've never been more home.
Image: "The Return of the Holy Family from Egypt" by Nicolás Enríquez, via The Metropolitan Museum of Art, licensed under CC0 1.0.