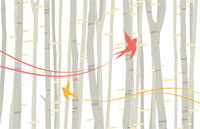 What is the Self? In all our relationships we tend to unconsciously fill a role, such as subordinate before our boss, parent to our child, expert before someone seeking our advice, a strong person when being admonished. We notice that with different people we feel different.
Eckhart Tolle, a non-Christian spiritual writer, says that in filling prescribed roles and the expectations that go along with them we put on a false self. Christian mystics like Thomas Merton would agree. "My false and private self is the one who wants to exist outside the reach of God's will and God's love," Merton said. The false self feeds the ego's need for survival, adapting to whatever it needs to be in the moment, even if the false self claims to need envy, apathy, or ill-temper.
How do we reclaim our true Self? The answer is deep love. I realize that I am fully myself before my significant other and before God. These two relationships are different than any other relationships in that they strive continually for intimate, unconditional, transparent, and fully vulnerable love. The intimacy with a significant other matches no other human relationship. True deep love with that person can reveal nothing other than the most authentic you. That intimacy is magnified in the God-me relationship where God knows me unequivocally. There is nothing to hide. Therefore, instead of analogizing my relationship with God (father-son, friend-friend, master-servant) I can allow myself to just be. That being, Tolle might say, is authentic Selfhood, without labels or titles or self-judgements.
Echoing Merton, trying to be someone we just aren't is our egoistic attempt to reside outside the reach of God's naked and unquenchable love. But there is no place God cannot reach if you allow it. Consider the state of your self before God. If the deepest intimate love exists there, then the truest Self is there too.