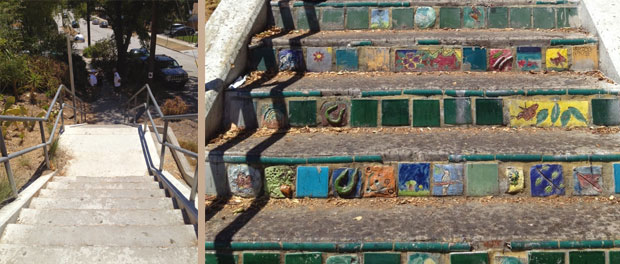 On a scorching day last summer, my sister-in-law took me on an architectural tour of her neighborhood in the hills of west Los Angeles, guiding us through a hundred years of local history and a few hundred feet elevation change. The stairway that took us down into the arroyo was stolidly utilitarian—bleached white concrete with steel banisters, gritty dirt underfoot, and a few tenacious weeds trying to establish a beachhead on the landings, 125 steps to a welcome pool of shade at the bottom.
Then I looked back. The bare concrete staircase had vanished, miraculously replaced by a brilliantly tiled mosaic reaching up toward a deep blue sky. Over a thousand tiles—designed years ago by students at San Pascual elementary school down the block—decorated the backs of the steps. I climbed back up to get a closer look. I ran my hands over intaglio cooking pots and coyotes in high relief. I drank in the cool cobalt blue tile incised with olive leaves, felt the morning's heat in fiery red chili peppers on bright yellow, and wondered over small handprints. This wasn't a staircase, but an exercise that let me grasp what was dear to the hearts of the children whose hands shaped each tile.
Five years ago, when I made the Spiritual Exercises, I carefully avoided reading much about the Exercises themselves. I first encountered Ignatius's lessons much as I did the Hough Street staircase: as utilitarian text on a white page, 30 days set into the grey landscape of a winter on the New England coast, the ice gritty underfoot. Gradually, the Spiritual Exercises trained me to turn around, impressing in me the importance of looking back. They encouraged me to get closer, to practice looking hard and long at the colorful details that let me peer, however briefly and inadequately, into God's deepest desires. They demanded that I not just think about God, but place myself in the way of God, to reach for God with both hands, even if that meant getting splinters.
In a culture where the sleek and efficient are all the rage, where I spend hours a day on an elegant and high-powered computer, I need this grace to feel the gritty texture of life all around me, to painfully sharpen my awareness of the hungry young man lurching down the street, the exhausted mother at the shelter, and the anxious students packed into the muggy classroom of an aging urban high school, to see in them the One whose hands shaped each life. This is the grace that enables me to turn around, walk back, and put my hands into the dusty, beautiful, terrible reality that we dwell in. That prepares me to pick up the cross that is always present, regardless of the splinters in my hands.
The Miracles of the Church seem to me to rest not so much upon faces or voices or healing power coming suddenly near to us from afar off, but upon our perceptions being made finer, so that for a moment our eyes can see and our ears can hear what is there about us always.
—Willa Cather in Death Comes for the Archbishop