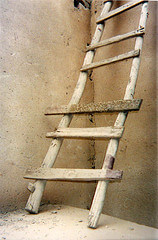 Writing in the Huffington Post, Fr. Jim Martin's literal climb up a scaffolding in an old church becomes a powerful metaphor for the climb up the ladder of sanctity.  Each rung is one of the beatitudes:
That's the climb the saints made. Each of those beatitudes is a rung on the ladder. The first and most basic is poverty of spirit; the poverty of knowing that we are limited, finite, dependent on God — in a word, human. But there are other rungs: Mercy. Meekness. Righteousness. Purity of Heart. Peacemaking. The willingness to suffer persecution. . . .
Each of those steps may seem hard, even dangerous, to step on, and it may seem that we can't do it, but that's the path we're invited to climb. But it's Christ who urges us on, saying, "Come on. It's worth it. I know it looks hard. I know you think you can't do it. I know you think you can't strive for holiness, but you can. Wait till you see what I have in store."
Image by
sbluerock
under
Creative Commons license
.