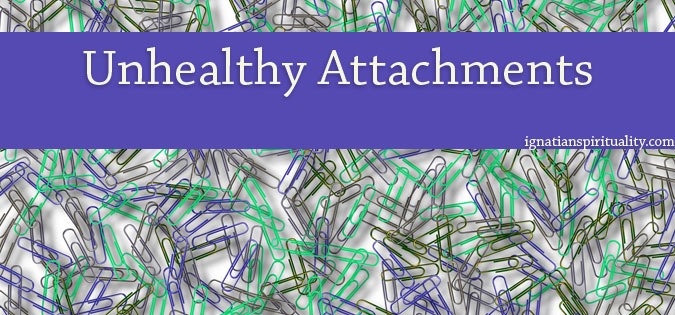 People who are familiar with St. Ignatius, the Spiritual Exercises, or Jesuit spirituality in general will sometimes use the term unhealthy attachment. What is that exactly? Let's explore this by asking a few questions.
Is there any physical habit I have that gets in the way of my being available to God? Do I turn to food, drink, sex, exercise, or sleep to avoid facing myself or my conversation with the Divine?
What are my emotional habits? What is my first response to stress, fear, worry, or pain? Is it anger? Fear? Hyperactivity by which I hope to fix everything? Where am I most comfortable emotionally? It's possible to be comfortable with emotions that aren't necessarily positive but they are familiar, so we go to them quickly. Some people live comfortably with anger and irritability. Others want only positive feelings, which can motivate them to avoid struggle or anything perceived as negative.
What is my median attitude? This is similar to an emotional habit, but it adds outlook to emotion. Must I always look on the bright side, even when I need to deal with something that's not so positive? Do I go immediately to the worst-case scenario? Do I keep myself set apart from others so that I can observe and judge rather than engage and risk? Or do I feel that everyone depends on me, all the time?
Physical habits, emotional habits, and attitudes/outlooks can be addictive. We learn patterns that can keep us safe from deep listening, honest reflection, and taking action. Listening to God, reflecting on our life in view of God's love, and putting that love into action—these aspects of our spiritual life can be thwarted when we scramble back to our habits. There are other kinds of habits, too, such as habits of thought or habits of relationship with things. Any habit that helps us avoid authentic engagement with God is a form of unhealthy attachment.We usually think of unhealthy attachments in terms of relationships with people or relationships with possessions, money, or power. But it's easy to overlook the subtler relationships we have within the self—with our feelings, our body, and our view of life.
For one week, take note of your emotional habits. Do you go through regular cycles? Are there emotions that, when you nurture them, make you feel more powerful or in charge? Or do you cling to emotions that make you feel needy or incompetent?
For another week, take note of your habits of attitude and outlook. Try to identify the things you say that indicate that you are: grateful/ungrateful; hopeful/not hopeful; generous/selfish, and so on.
And, on any particular day, notice what your body is used to, and if these patterns of food, sleep, activity, and rest are doing you good or harm.