The stench of the mud hut with the tin roof that was home to a woman dying of breast cancer, her two children in torn, dirty clothes, and their cow—that stench will never leave me.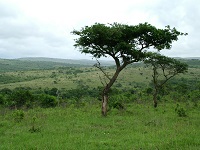 After 12 days in the heart of Africa, I found myself almost numb to the poverty. So many seemingly impossible situations. The average life expectancy is 55. The orphans, street children, child wives, AIDS victims, deformed bodies, dirt-floored schools, and hospital wards of 20+ patients with screenless windows and swarming flies—it is easy to be overwhelmed, numb, and ultimately apathetic. And yet in my Ignatian prayer, sitting with Christ as we bumped along dusty roads, I was overwhelmed by the very presence of God in so many people we met.
In the Beatitudes, Christ spoke of "the blessed." I read that word as "God is with and working through." Blessed (God is with and working through) the poor in spirit, those who hunger for righteousness, the peacemaker, the meek. Further: God is with and working through the sisters who ran the orphanage, the Tanzanian doctor who hiked through the banana trees to get to the mud huts of the hospice patients, the missionaries who took a huge leap of faith to leave their homeland and provide care and education for the children, the Tanzanian teachers who work to change societal attitudes towards the handicapped, the pastors who preached gently against the violation of women's rights and bodies in an indigenous culture that has accepted this for several thousand years. Blessed are so many.
They only rarely make the news, but they are out there, millions of them, laboring daily, stretching limited resources, answering a call to provide for the impoverished and the marginalized of this world. I pray that we who are blessed with resources will recognize that God is with and working through us too, helping us loosen our grip on what we see as "ours" so that we can give of those resources freely to a world in need.