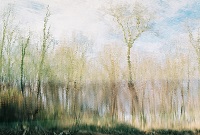 Ryan Duns, SJ, has a couple of interesting posts about the recent televised exchange between Oprah Winfrey and the swimmer Diana Nyad about atheism and awe. Nyad, an atheist, said she experiences awe: "I can stand at the beach's edge with the most devout Christian, Jew, Buddhist…go on down the line, and weep with the beauty of this universe and be moved by all of humanity…all the billions of people who have lived before us, who have loved and hurt." Oprah said, "I don't call you an atheist then! I think if you believe in awe…and the wonder…and the mystery…that is what God is." (Watch the exchange here on YouTube.)
Oprah took heat from atheists who thought she disrespected Nyad's atheism, but Duns gets Oprah's point. He quotes Karl Rahner, SJ, who said this to a man who claimed that he had never experienced God:
I don't believe you; I just don't accept that. You have had, perhaps, no experience of God under this precise code-word God but you have had or have now an experience of God – and I am convinced that this is true of every person.