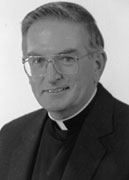 William (Bill) Barry, a distinguished spiritual director and author, was born in Worchester, MA. He entered the Society of Jesus in 1950, studied philosophy in Germany from 1953 until 1956, and was at Weston College for theology studies from 1959 until 1963. Ordained a priest in 1962, Barry went on to earn a Ph.D. in clinical psychology from the University of Michigan in 1968.
In 1969, he began teaching psychology at Weston School of Theology, Cambridge, MA, and in 1971 was named director for the Center for Religious Development. He served in both capacities until 1978, when he was put in charge of formation for the New England Jesuit Province. Barry was the Assistant Director of Novices for the Province (1985-88) when he was named Rector of Boston College.
From 1991 to 1997, he served as Provincial of the New England Jesuits. Following that, he was named co-director of the Jesuit Tertianship Program. Barry directs retreats at Campion Center in Weston, MA.
Despite such a busy and committed life, Barry found the time to write 15 books, including The Practice of Spiritual Direction, God and You, Finding God in All Things, Spiritual Direction and the Encounter with God, Who Do You Say I Am?, With an Everlasting Love, and A Friendship Like No Other.
Barry has the rare ability to present complex spiritual issues in clear, well-written prose. He is one of the most influential Ignatian commentators at work today.
---
Related Links
God Wants Our Friendship
By William A. Barry, SJ
God wants our friendship, and in order for us to trust this experience of God as friend, we must move beyond our feelings of fear of God.
How Do I Know I'm Experiencing God?
By William A. Barry, SJ
Ignatius's rules can help us sort out spiritual experience.
How to Know That a Choice Is Right
By William A. Barry, SJ
Barry discusses the most important criterion for confirming a good decision.
dotMagis Blog Posts
Blog posts about William A. Barry, SJ.
Having a Friendship with God This Lent
Fr. Barry discusses the opportunity to develop your relationship with God during Lent in this video reflection.
Books by William A. Barry, SJ
A Friendship Like No Other
God's Passionate Desire
Here's My Heart, Here's My Hand
Seek My Face
Letting God Come Close