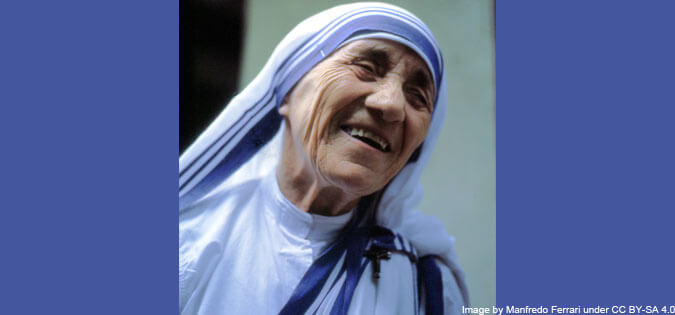 Religion & Ethics Newsweekly recently released a piece on Mother Teresa and Sainthood, featuring comments from Sister Mangala of the Missionaries of Charity; Jim Towey, president of Ave Maria University; and author James Martin, SJ. Mother Teresa will be canonized September 4, 2016.
Fr. Martin reflected more on Mother Teresa's life in his best-selling book My Life with the Saints (being released in a special tenth-anniversary edition next month). Read the excerpt "Mother Teresa and Doing Something Beautiful for God."
If you're receiving this via e-mail, click through to watch the video Soon-to-Be-Saint Mother Teresa.
Image by Manfredo Ferrari under CC BY-SA 4.0, via Wikimedia Commons.

Print Friendly