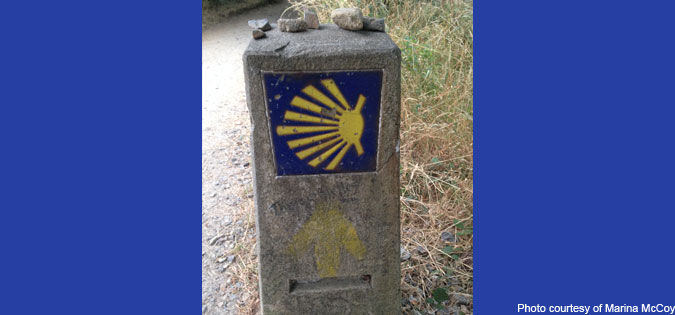 About halfway into my time on the Camino de Santiago, my toes began to develop blisters. I had planned my footwear carefully, researching many conflicting shoe recommendations on websites where fellow travelers on the Camino had shared their advice: hiking boots vs. shoes, trail runners with or without waterproofing; half a dozen different recommendations on socks. I tried on at least nine or ten different pairs of shoes at three different outdoor shops, before finally settling on a hiking shoe that felt best. I walked many six- and seven-mile hikes to break in my shoes before the trip began, all without any issue. Surely if I adjusted the knot, or wore slightly different socks, the shoes would work.
Still, there were the blisters, undeniably visible and painful with each step. New ones developed just as the old ones began to heal. Along with a long-suffering colleague (with an even worse case of blisters), I purchased a pair of inexpensive sandals from a friendly Spanish salesman, who assured me these were the best brand in Spain. The idea was to trade off between them and the hiking shoes depending on the surface and terrain.
The next morning, within an hour of walking, I felt the familiar heat and pain of the blistering beginning again in my hiking shoes, and changed into the sandals. While my feet felt better, the added weight of the shoes in my backpack was quite annoying. I was now carrying around mostly useless shoes, ones that added to the weight my feet now bore in sandals with little ankle support. Now my ankles were aching! Still, I was hesitant to leave the hiking shoes behind after investing both money and time. They had been part of my meticulous pre-trip planning. I had invested my money, research, and especially my time in these shoes. Eventually, I had to face that the shoes were a not a good fit; they simply caused me pain.
So I resolved to let go. I stopped in the middle of the trail, took my shoes out of my blue backpack, and walked up to one of the stone Camino markers with bright yellow shells, upon which pilgrims often leave small stones or other symbolic items. I deposited my shoes on the stone marker and walked on, feeling liberated. As I continued to walk, I mentally left behind some past "bad fits" from my life: relationships that were painful but to which I continued to cling, in part because of having invested so much time and emotional energy into them; or past choices that I wished that I could undo but which were long past fixing. Sharing later with a friend, she remarked on advice she had heard once on the radio from Norman Lear about dealing with life's disappointments: "Over. Next."
Leaving behind the shoes connected back to the quote that I had chosen to read to our group that same morning, a selection from Thomas Merton:
Happiness consists in finding out precisely what "the one thing necessary" may be in our lives, and in gladly relinquishing all the rest. For then, by a divine paradox, we find that everything else is given us together with the one thing we needed. (Merton, No Man Is an Island)
Clearly, the shoes were not the "one thing necessary"! Neither were these relationships or moments from my past. Walking ahead with the Lord and a new sense of community and friendship was. Over. Next.