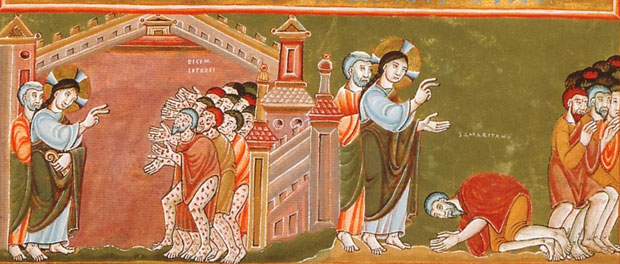 This story is inspired by Luke 17:11–19, the cleansing of ten lepers, and illustrates two aspects of Ignatian spirituality: imaginative prayer and gratitude.
We're camped outside Jerusalem tonight.
Some time ago I was cured of leprosy by Jesus. Ten of us showed ourselves to the priest, as prescribed, and how we celebrated after that! Nine of us, that is. One fellow disappeared. The rest of us went to a local inn and sat at a crowded table. No one knew we had been unclean. We looked like any other patrons in the place.
We ten came together over the years simply because of our shared affliction. With that gone, we had no reason to stay together, and within a few days, we parted.
I returned to my village where my family and my old girlfriend embraced me with joy. I married her, and we have a newborn son.
One night last week, my wife finally sat up in bed after hearing me repeat for the millionth time my regret at not going back to thank Jesus for the cure. I owe that man my life, I tell her again and again.
"It's not enough that you are kind to every beggar, crippled person, and outcast in this village?" my wife chastises me. "Isn't it thanks enough that you are changed from the self-absorbed lost soul you once were? Isn't it enough that you risk contamination again in the way you welcome strangers who may have sores we know nothing about?"
I try to explain that I am changed, not only from being a pariah to society, but transformed to practice compassion. Still I wish I had returned to thank him. Why can't I let that go?
"I heard some travelers say they saw Jesus headed to Jerusalem for the Passover," my wife said, sighing deeply. "The day after tomorrow we will pack for the journey, even though we will celebrate the great feast here tomorrow. We will seek out this Jesus and you can thank him, and then we can move on with our lives. Let us return to the city of peace and give this rabbi our thanks."
That is why we are camping outside Jerusalem tonight. I can't believe he was crucified. My grief was unbearable, until last night.
Christ appeared to me, risen from the dead! Even as my head hung and I sobbed in my wife's arms, the bright light shone around us. His appearance was another blessing I did not deserve. But I accept the opulent gift. I thanked him profusely, with large tears, as I hugged his feet. He immediately reached down and pulled me up to look into his eyes.
Jesus comforted me and held our baby. I know I am forgiven for not returning to give thanks after the cure. Jesus invited me to return home again to continue loving our neighbors, teaching our son, and offering kindnesses to all people. And now I have another mission: to spread the news that Jesus Christ is the Son of God. We will begin a community of believers in our village.
I am glad that my wife suggested this journey and grateful that we did not have to witness his Crucifixion. Jesus appeared to us resurrected, and I was able to pour out my appreciation. God knew my deep desire to express gratitude and gave me an opportunity to do so. I was instantly healed of the nagging regret that stole my peace of mind for not going back to Jesus the day the leprosy left me.
With Jesus, it is never too late to give thanks.