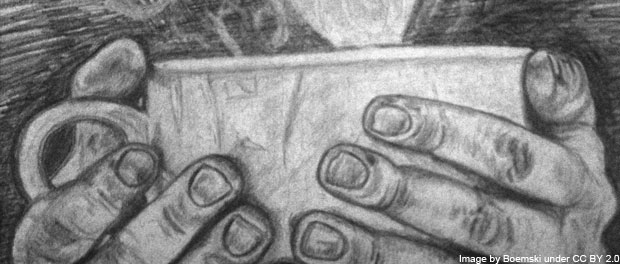 The aroma of fresh coffee sends me to bed every night as I lock the doors and my husband grinds the beans for the next morning's automatically brewed wake-up beverage.
Smelling that rich dark roast, I feel hope as I say goodnight to the day. Inhaling is an invitation to the Examen for me, and I make my resolve for tomorrow. The promise of a cup of coffee to greet the next day sends me to bed a little freer. Whatever today's failings and shortcomings, tomorrow I will be greeted again by a fragance of love, because my husband makes the coffee as an act of love.
He's not just preparing coffee; he is making a statement of love—without using words. I have to be paying attention and hear with my heart.
Before leaving on a business trip, he sets up a pot of coffee to start the morning after his departure. He makes enough so I can reheat some the day after that. How can I describe the love I feel as I fill a mug and head to the car? My husband's simple gesture invites a loving response.
But today is different.
I slam on the brakes. And only belatedly do I realize that my tall coffee cup had no lid.
Coffee now covers my porous floor mats, my sandaled foot, and my briefcase. Knowing that I'm on a freeway far from the next exit, and I'm already late for work, I make a choice. The 16 ounces of coffee will remain where they are as I continue my traffic-logged commute. And with that choice, I accept my imperfections—including rushing—and I inhale.
The fragrance of coffee is still tantalizingly beautiful. And I thank God for the love of the man who made me a cup.
And now that love is everywhere in my car. As I arrive late to work, I decide to let the coffee go. In the hundred-degree heat expected today, the coffee will dry and perhaps leave my car saturated with scents of coffee. The overarching emotion I feel deep within is gratitude. I am blessed by the love that went into that cup of coffee.
What small things do I do to make another person's life more joyful?