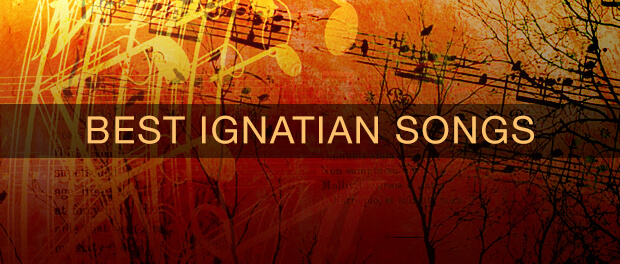 There's something thoroughly Ignatian about finding God in music. St. Ignatius's spiritual approach mostly bypasses the concepts and ideas stuffed into our heads and strives to touch the heart directly. That's what music does too. Music is literally beyond words.
There's a scene in the movie The Mission that shows what I'm talking about. A Jesuit, loosely based on the missionary and martyr St. Roque Gonzalez, comes into the jungle to make contact with the native people who had killed another priest. He sits down and plays a hauntingly beautiful melody on his recorder. The South American Indians come—armed, hostile, suspicious—but the music brings about a miracle of reconciliation. Watch the scene here.
I'm not aware of any mention of music in Ignatius's writings, but I have to think that Ignatius, a cultured man who lived in Paris and Rome, heard and appreciated good music. What kind of music? Maybe something like this lovely choral setting of John 14:15–17, by Thomas Tallis, who was a contemporary of Ignatius.
There's a lot more music around today than there was in Ignatius's time. Here are some songs that have moved me, touched my heart, and otherwise shown me something about God.
Several of these songs are prayers. From Ireland comes Van Morrison's lyrical "Have I Told You Lately that I Love You" and U2's rock anthem "Yahweh." Also listen to Alison Krauss's heartfelt "Palm of Your Hand."
There's no cheap grace in "After the Storm" by Mumford and Sons and "Every Grain of Sand" by Bob Dylan, covered here by Emmylou Harris. The imagery in the music video for "That's Why I Pray" by Big and Rich is haunting.
"One of Us" by Joan Osborne is a rock-pop reflection on the question, "What would it mean if Jesus became one of us?" Here is a clip from what I call the Discernment Song—"Lead Me, Guide Me," by Elvis Presley.
I'll wrap this up with "Ah, Tutti Contenti," the conclusion of Mozart's opera The Marriage of Figaro, which blends forgiveness, love, and celebration in one unforgettable melody.
Share your own favorite spiritual music in the comments.
---
Following along with #31DayswithIgnatius? Today's 31 Days with St. Ignatius link is Wading into the Ocean by Marina McCoy.