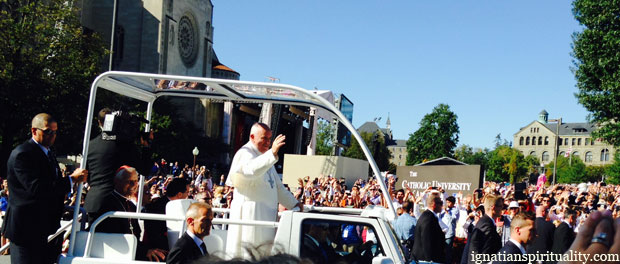 In his Wednesday General Audience, Pope Francis talked about his Apostolic Visit to Cuba and the United States. As he reflected on his time in North America, many others have been sharing their reflections and photographs of September's papal events.
Busted Halo shares 15 favorite quotes from Pope Francis's visit.
Many schools held watch parties to view the Pope's address to Congress.
Awesome photos from across the U.S. of #Pope2Congress Watch Parties! http://t.co/uXOoxaTGRw pic.twitter.com/Ba3Ws4zmia

— Christopher Kerr (@Chris___Kerr) September 28, 2015
Aleteia provides a convenient list of transcripts from Pope Francis's addresses for our continued reflection. James Martin, SJ, sees three spiritual takeaways from the Pope's time in America.
RT @americamag: Top 3 spiritual takeaways from Pope Francis' visit to the United States, by @JamesMartinSJ https://t.co/4xQ9p4fOzv — Jesuit News (@jesuitnews) September 30, 2015
On Facebook, Martina Nicholson shares:
Watching the event at 9/11 memorial—all the representatives of different religions standing together and praying for peace. The Rabbi quoting the prayer of St. Francis. The Orthodox bishop quoting the Beatitudes from Matthew's Gospel. The Hindu lady who was so beautiful in the dark blue sari asking the Pope to bless her unborn child in the womb. The face of the Zen Buddhist Japanese woman in the gorgeous kimono, so serene and yet so present and soft. The Pope himself, saying that in this place of destruction, to remember the faces of each of the courageous people who responded with love to the senseless violence, in acts of great self-sacrifice to save others. The Iman, singing from the Koran, about peace, with soft eyes and a soft smile. The cantor, singing with such exquisite voice the Hebrew song. The kindly smile of the saffron-robed monk. The children's chorus, singing "Let peace begin with me." All of the events, and all of the Pope's homilies were fabulous, but this was the most exciting and touching to me.
Michelle Francl-Donnay writes in a column for Catholic Philly:
What will I take from these days?

Two things to start. A deep sense of the unity of believers, and of our shared responsibility for each other in the small things. And the eyes to see the people that came streaming to receive the blessings of these days, Christ playing in ten thousand places, lovely in all those eyes not his.
The photo at the top of this post was taken by Paul Gallagher shortly after the canonization Mass of Junípero Serra. Rebecca Ruiz shares her photos from Washington, DC.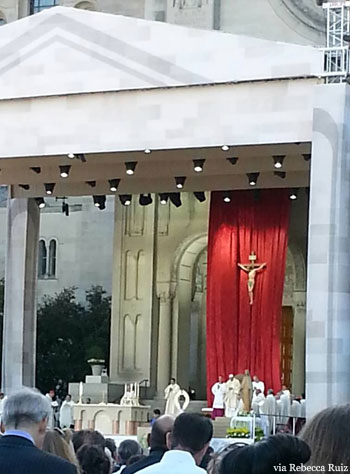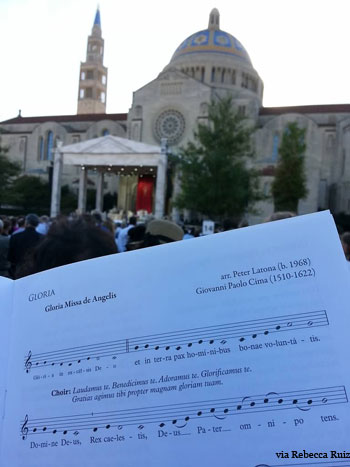 Michael Donnay had a close-up view of Pope Francis at Mass in Philadelphia.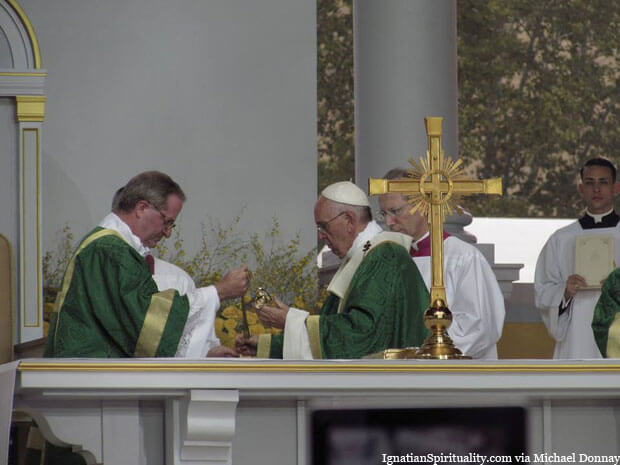 Finally, the Apostleship of Prayer invites us to reflect on the visit and its effects.
Examine #PopeFrancis' visit for traces of God's presence. #PopeinUS pic.twitter.com/dSeJUxU5IV

— ApostleshipOfPrayer (@aposprayer) September 28, 2015
We thank Pope Francis and continue to pray for him.