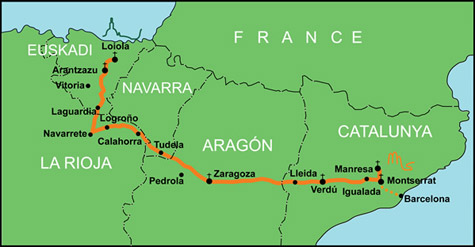 A group of lay people and Jesuits have set up a new pilgrimage route in Spain that should appeal to walkers and cyclists with an Ignatian bent. It's called the Camino Ignaciano (the Ignatian "way" or "road"). It's the route St. Ignatius walked in 1522 after his conversion. It begins at his family's home in Loyola and ends in the town of Manresa, where he began to put together the book that would become the Spiritual Exercises.The route is about 340 miles long. The pilgrimage team (which includes my friend Chris Lowney) has mapped the route, divided it into 27 daily walking segments, and cataloged hostels and services along the way. All this information can be found in five languages at the website caminoignaciano.org.
Anyone who walks the route for five consecutive days in the next two years will be enrolled as a "pioneer" pilgrim.
Ten years ago I traveled this route by bus when I made an Ignatian pilgrimage. The countryside in this part of Spain is gorgeous and diverse–mountains, fertile land, rivers, even a desert. 2022 will be the 500th anniversary of Ignatius's trek. By then the team expects the Camino Ignaciano to be well-established.