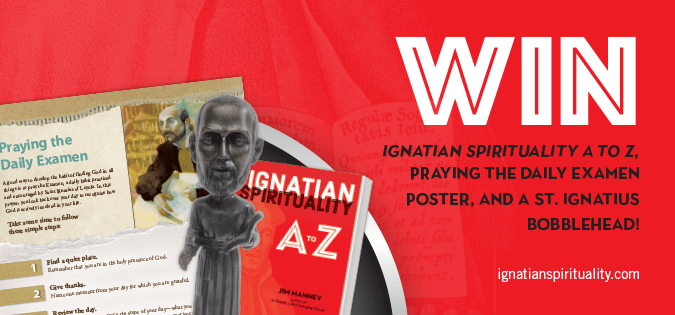 As we draw near the close of our 31 Days with St. Ignatius celebration, we asked Ignatian Spirituality A to Z author Jim Manney a few questions. Check out his answers, and then scroll down for your chance to win an Ignatian Inspiration Pack, which includes a copy of Ignatian Spirituality A to Z.
Loyola Press: What criteria did you use for deciding what terms or people made it into Ignatian Spirituality A to Z?
Jim Manney: I started with a list of the ideas, writings, sayings, and concepts that I thought were important for a basic understanding of Ignatian spirituality. Then I added terms that cover the history, culture, and ministry of the Jesuits. Then came a list of people—mainly Jesuit saints and famous Jesuits living and dead. I found room for some light-hearted entries too. I finally came up with 83 entries—from Ad Majorem Dei Gloriam to Zeal.
LP: Which entry should a beginner in Ignatian spirituality read first?
JM: Start with Ignatius Loyola. It's the longest entry in the book. Ignatian spirituality begins with his story, and that's the best place to start.
LP: Which entry is "not to be missed"?
JM: I hope everyone will read the entry on the Examen. Better still, make it a habit to pray the Examen regularly. It's a method of prayer that helps us find God in our daily experience. It's the basic form of Ignatian prayer. For many, it's the gateway into Ignatian spirituality.
LP: Tell us about some of the fun entries that made it into the book.
JM: I had fun researching the entry on Jesuit Jokes. (Seriously, the jokes people tell about Jesuits reveal a lot about them.) I wrote about some of my favorite books and movies in the entry on Jesuits in Fiction and Film. I dug deep into my inner sports fan to write about the connection between Ignatian spirituality and basketball. For sheer fun, though, nothing beats the entry on Jesuit Conspiracy Theories. Did you know that the Jesuits are said to have a secret military base?
LP: Any final thoughts you want to leave readers with?
JM: I love Ignatian spirituality. That's why I wrote the book. I hope it will be helpful for everyone learning about Ignatian spirituality or trying to help others understand it.
Share on social media with #31DayswithIgnatius.