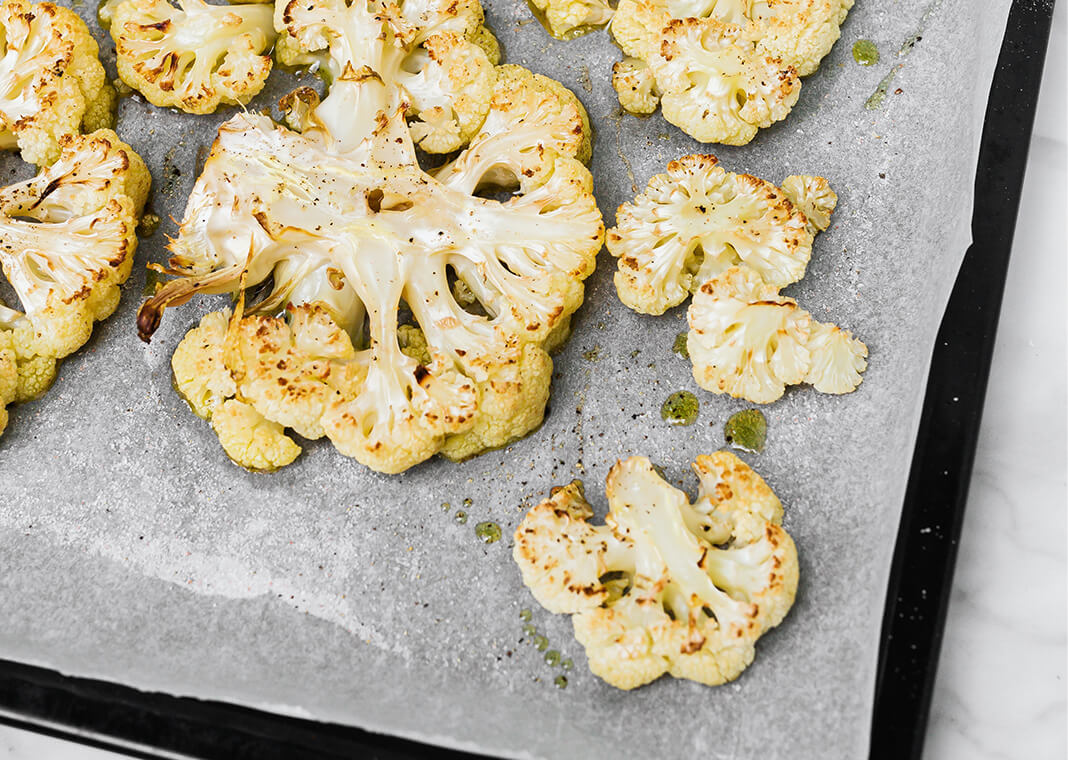 We roast a lot of vegetables in our home, much to our daughters' chagrin. Brussel sprouts, sweet potatoes, cauliflower, broccoli—the oven is always working.
"But I don't like broccoli," my eldest daughter will say.
"Don't like broccoli," her younger sister will parrot.
"You both do like broccoli," I'll insist, chopping up the florets and spreading them out in one of our baking pans. I cover the green veggie with a generous pour from the olive oil bottle and then add salt and pepper and quite a bit of garlic powder. The oil inevitably splashes over the baking sheet and oozes into the crevices.
"Hmph," my eldest daughter pouts. Her sister folds her hands in mock imitation. "Hmph."
Again and again we do this dance; again and again they realize they do, in fact, enjoy Brussels sprouts and broccoli and all the rest. They eat and argue and barter for dessert.
And those pans go in the oven—clatter, bang, crash—and come out of the oven—clatter, bang, sizzle—and into the sink—clatter, bang, splash—and the nightly ritual repeats itself.
"Those pans have seen better days," my wife will say, and I'll glance at them, realizing that the grease stains and black smudges and remnants of my overly enthusiastic olive oil pours prove her point. I scrub at the pans all the same, my blue sponge turning black.
"I didn't realize," I'll say. "This is just what pans are supposed to look like."
My wife will shake her head, and the pans will get darker and slightly warped, but we'll keep putting them in the oven and taking them out—clatter, bang, sizzle—because we roast a lot of vegetables in our home.
I was holding one of those pans in my soapy hands recently, marveling at the persistent, impenetrable grease and my insistence that the wear and tear, dirt and grime that coat the pan are its natural, inevitable state. The more those stains add up, the more proof there is that those pans have done their job—are doing their job.
I wonder if the same is true for us. God invites us deeper and deeper into the mystery of who we are and who we are called to be, and those stains—the wear and tear of daily living—necessarily pile up. We are thrust into the oven of our vocation where we are tried, where we sit and bake and provide the necessary foundation for good fruits to flourish.
We aren't meant to be pristine. We are meant to be weathered. Our bodies and souls carry with them the evidence of our deepening engagement with God's invitation in our lives. And God's invitation is nearly always messy, involving splashes of olive oil, rogue Brussel sprouts, and dents left over from being dropped on the floor one too many times.
In this life, there are a lot of proverbial vegetables to be roasted—and God delights in our eagerness rather than our perfection.
We scrub at those stains, sure. But God invites us first to rejoice in them and to settle into a beauty that, rather than being spotless and smooth and pure, is weathered and storied and full of perfect little imperfections.
In the end, our purpose here—our invitation to co-labor in the fields of God's creation—isn't one of holding back, of sitting idly in the drawer so as to avoid those seemingly unsightly stains. Rather, if we are to love and serve all of creation in all that we do, we need to embrace those stains, plunge into life's ovens, and rejoice in the opportunity to do so again and again in the rituals of our daily living.
In this life, there are a lot of proverbial vegetables to be roasted—and God delights in our eagerness rather than our perfection when it comes to playing our part.
Sure, we've all seen better days, but the dirt and grime and wear and tear are part of what we're supposed to look like and supposed to be doing, and they're increasing proof that we're where we're supposed to be.
Photo by Karolina Grabowska on Pexels.