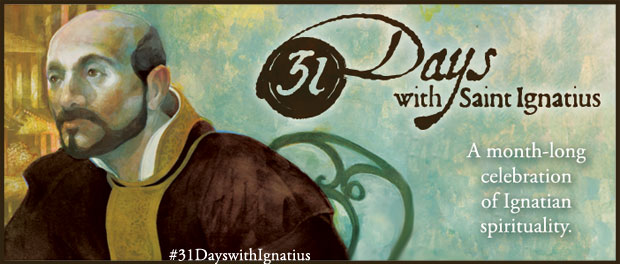 July is almost here, which means we're getting ready for the seventh-annual 31 Days with St. Ignatius. This month-long celebration of Ignatian spirituality leads up to the feast day of its namesake on July 31. We've put together a calendar of Ignatian articles and more for you to be inspired daily.
We'll also be welcoming some guest bloggers here at dotMagis during July, joining our regular bloggers in exploring ways of encountering God through using the five senses. Look for posts from writers including Ginny Kubitz Moyer; James Martin, SJ; Becky Eldredge; Joseph Tetlow, SJ; Tim Muldoon; Vinita Hampton Wright; Gary Jansen; Jim Manney; Mark Thibodeaux, SJ; and Kerry Weber.
Please join in the celebration by adding your own thoughts in the comments to this or any post. Use the hashtag #31DayswithIgnatius on your favorite social media, and share the ways you've been touched by St. Ignatius and the spiritual outlook that bears his name.
July's dotMagis posts will include the link to each day's 31 Days with St. Ignatius reading/viewing, so to get those daily reminders, be sure to subscribe to dotMagis now (link in sidebar).