IgnatianSpirituality.com is celebrating its fifth anniversary this month. We have a few things planned to mark the occasion, and our online party will last throughout May.
Paul Campbell, SJ, kicks off our celebration with this video greeting:
Digitally Enhanced Experience of the Spiritual Exercises
The digitally enhanced experience of the Spiritual Exercises mentioned in the video can be found here. Developed for spiritual directors and other practitioners of Ignatian spirituality, the Spiritual Exercises online supports those who lead others in the Exercises, whether as a 30-day retreat, a 19th annotation retreat, or other variation.
The website includes:
Louis J. Puhl, SJ, translation, with additional translations to be added later
Commentaries and annotations by leaders in Ignatian spirituality, such as Margaret Silf, Joseph Tetlow, SJ, Michael Ivens, SJ, and others
Videos, image libraries, PowerPoint presentations, and multi-media prayer experiences
The Spiritual Exercises online is a free site offered by Loyola Press. Visit directly at http://spex.ignatianspirituality.com or use the link in the Spiritual Exercises section of this site.
Gifts for dotMagis Subscribers
Later this month, we'll send a copy of two special items to all dotMagis subscribers: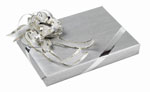 an online magazine with a selection of the best dotMagis posts from our first five years
a photo album of some favorite photos from our sister blog, Picturing God.
If you're not already a subscriber, sign up for free (link in sidebar).
Prayer for Generosity Series
We've invited our family of bloggers to reflect on the individual lines of St. Ignatius's Prayer for Generosity. This special series kicks off on Wednesday here on dotMagis—another great reason to subscribe so you don't miss a post.
Thank you for being a part of the first five years of IgnatianSpirituality.com. Now is a great time to share the site with your friends and invite them to celebrate with us!