Yesterday we celebrated the feast of St. Ignatius Loyola. Tomorrow is the feast day of St. Peter Faber, one of Ignatius's first companions. In his honor, enjoy this excerpt from The Quiet Companion by Mary Purcell.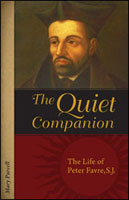 Peter [Faber] had come to Paris a youth of nineteen reared in a home protected from outside influences by a double range of Alps. Imbued with the intense faith and living traditions of the people of Savoy he had always enjoyed a sense of security, solidity, permanence. His humble birth and religious upbringing gave him a taste for simple things; he never lost his preference for the devotions his childhood had known: the feasts of Our Lord, Our Lady and the saints; relics, processions, shrines and pilgrimages; the angels who guarded individuals, households, towns and peoples…
His first five years in the Ste-Barbe were devoted to the Arts course which comprised grammar, dialectic, geometry, cosmology, literature and philosophy. "This should have given him an almost encyclopedic intellectual baggage, ranging from Hebrew vocabulary to astral influences. It also called for incessant mental gymnastics, argumentations of all kinds, attacks and defences." For the remainder of his University career (1530-1536) he studied theology. His studies, however, do not seem to have been well ordered or continuous…How then, we may ask, did he come to be regarded as an outstanding theologian?
Faber may not have been a professional theologian. He had no diploma. He had no taste for theology. But "theologian" in the sense used (by Peter Canisius and Kalckbrenner) does not mean the rigorous science dealing with the truths of faith, but that perception of mysteries which experience yields, the wisdom imprinted by piety and matured by discernment, reflection of a particular type born of personal encounters with Jesus Christ and the moral attitudes these encounters engender.