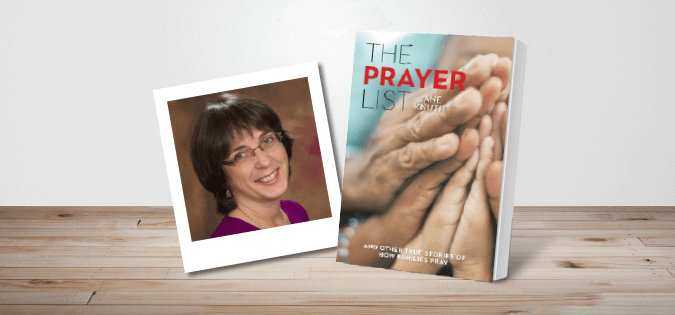 One of our newest books is all about family prayer: The Prayer List…and Other True Stories of How Families Pray. Through interviews with friends, family members, and others she interviewed, Jane Knuth explores the various ways families have developed prayer practices. All have discovered that God begins with people where they are and leads them into relationship and conversation that become true and life-giving prayer.Here's part of Jane's own story:Dean and I are an interdenominational couple; he is Lutheran, and I am Roman Catholic. When we began our married life, the first evening in our new home, we faced each other across the dinner table and paused. Which meal grace should we say? . . . So, we began saying the various Lutheran prayers at breakfast and lunch and the Catholic prayer at supper. One of these is quite short and became a favorite. It goes like this:
"Come, Lord Jesus, be our guest, and let this food to us be blessed."
Ellen and her sister, Martha, learned it quickly and said it speedily, especially when they were hungry. One day, after finishing the prayer, four-year-old Ellen asked me, "Mama, what's beourguest?"
"Sorry?" I said, while cutting her sister's meat. "What did you say?"
"Beourguest. What's beourguest?" she said patiently. "Come, Lord Jesus, Beourguest. I know Jesus, but I don't know beourguest."
"Oh, dear!" I chuckled. "We are saying, 'Be. Our. Guest.' It's three words, not one word."
Dean explained that we were inviting Jesus to come to sit at the table with us, like company. "We want him to bless our food and be with us while we eat."
Ellen and her little sister exchanged pensive looks, and then Martha, age three, said, "But there's no place for Jesus to sit. And NO PLATE!"
Dean smiled indulgently and walked over to the kitchen cupboard. "You're right. We should have a place for Jesus." He fetched a plate and pulled an empty chair to the table. Both girls smiled and began eating again.
After a couple of minutes, Ellen said, "Jesus doesn't have a cup."
Dean interrupted his meal again and brought a sippy cup to the table.
Martha liked this game. "He needs a spoon, too! And a fork!"
My indulgence wore thin. "Jesus eats with his fingers. That's how they do it in the Bible all the time. He doesn't use silverware."
"Oh." They nodded seriously. "Even soup?"
"Even soup. He's God. He can do amazing things."
After that, we always had a place at the table for Jesus. Our daughters were happy to know he was there, and Dean and I found the extra plate to be a good reminder, too.
Not only do I encourage you to buy and read this delightful and inspiring book, I also urge you to look at your own situation and ask God's help in developing your family's prayer in the way best suited to you and your loved ones.