I always look forward to my end-of-the-fiscal-year performance evaluation. I like to think of this as an extended Examen of the past year. It is a crucial opportunity for giving thanks, celebrating successes, reviewing areas for growth, and looking ahead to the coming year.
There was much to be grateful for this past year, and I also knew there was a lot of room for growth. But there was something else going on, too. After 10 years in my current role, I was beginning to wonder if there was something more that I could be doing. I had that aching feeling that a significant change was on the horizon. My heart was striving for what Ignatius describes as magis—something greater.
What I had hoped would be a fruitful conversation about new projects and possibilities was instead met with a very different set of circumstances. I walked into my boss's office last week only to be greeted by a formal letter announcing my termination. I knew there were budget constraints; our team had been notified earlier in the year that staff cuts might be a possibility. We've all known someone who's been in this situation, and now that someone is me.
Where does one find God in the midst of economic downturn and unanticipated change? Even in the midst of sadness, anger, and disbelief, I see God everywhere! I know the face of God in unimaginable kindness from coworkers, numerous suggestions for job leads, two unsolicited offers for career coaching, and countless invitations to lunch. Clearly, there is something more at work here.
Most surprising, I have been met with an unmerited and extravagant amount of peace. At a time when most people would be panicked and afraid, my heart knows that this is exactly the place I am supposed to be. It is a peace that I can only describe as coming from the heart of Christ. Peace I leave with you; my peace I give to you. I do not give to you as the world gives. Do not let your hearts be troubled, and do not let them be afraid. (John 14:27)As I now follow the Examen back over 10 years of gratitude, learning, growth, change, new friendships, and fond memories, I am confident and hopeful that God will take all of this and create something new, something more, something greater than I could ever imagine on my own.
---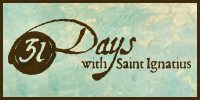 Join in 31 Days with St. Ignatius by reading today's entry, A Change of Preposition.