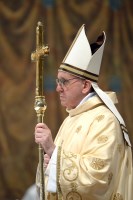 The installation Mass for Pope Francis will be on March 19, 2013. Enjoy this links round-up of blog posts and media clips related to the first Jesuit pope.
Fr. Timothy P. Kesicki, SJ, Provincial of the Chicago-Detroit Jesuits, reflects upon the election of a Jesuit as Bishop of Rome and Holy Father.
Here's the statement by the Superior General of the Society of Jesus on the election of Pope Francis.
Jesuit Leadership StyleChris Lowney, author of Heroic Leadership: Best Practices from a 450-Year-Old Company That Changed the World, says that the Society of Jesus pioneered a unique formula for molding leaders.
What Makes a Jesuit?Vinita Hampton Wright considers what qualities of Jesuit training might prepare a man to be a good pope in 2013.
Kevin O'Brien, SJ, executive director of campus ministry at Georgetown University and author of The Ignatian Adventure, has been commenting in various media channels:
A Jesuit Pope with a Franciscan NameJames Martin, SJ, writes in Slate that it makes more sense than you'd think.
This Ignatian Franciscan PopeTim Muldoon wonders, "What will a church look like that dedicates its energies to serving Christ's poor?"
The Jesuit Post offers several articles: