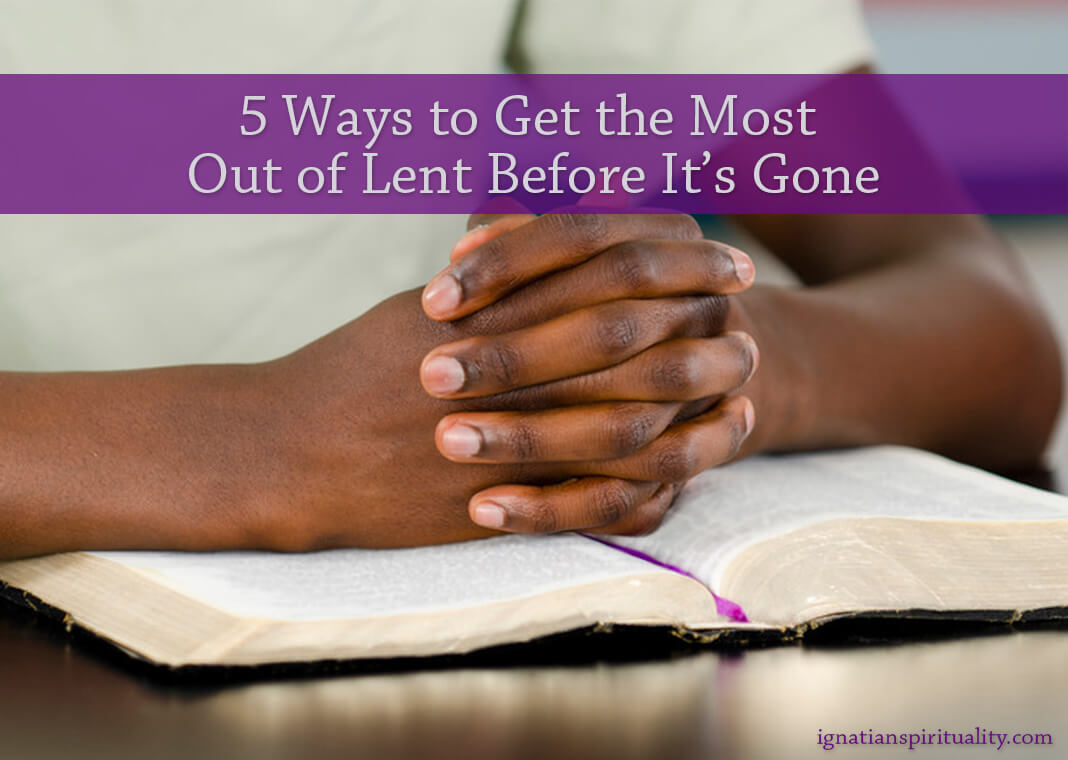 The general consensus is that it's been difficult to engage with Lent this year, because the entire year has felt like a never-ending Lent. Many feel distracted. Most are missing their faith communities. There is widespread fatigue over all we have lost this year, individually and collectively. We eagerly look forward to the Resurrection and anticipate the joy of Easter in a manner unprecedented. So, even if we haven't particularly connected with Lent this year, how can we get the most out of the few remaining days we have this season? St. Ignatius might advise five ways.
1. Have a heart-to-heart with Jesus about how this season of Lent has gone.
Jesus doesn't demand perfection, so be honest about how you've been feeling. Don't sugarcoat it. If you feel like you're lacking in faith, hope, or love, talk about it. Ask for help. If it's been a fruitful journey, talk about that. If you're looking forward in hope to Easter, talk about it. Then, take some time in silence to listen. What do you hear in response?
2. Phone a friend.
Community is one of the biggest things we've lost out on this year. I've noticed that I'm Zoomed-out and have started to enjoy talking on the phone again. This week is a great time to check in with friends about how the Lenten journey has been going and to share your hopes as Easter approaches. Who will you connect with this week?
3. Engage with the daily Scripture readings.
Imagine yourself as one of the characters in the Gospel passage of the day, and notice the events from a firsthand perspective. As you contemplate the scene, notice with all of your senses what is going on around you. Perhaps write down what you notice. Is there anything that surprises you?
4. Remember the sacraments.
While virtual Mass has been necessary this year, there is simply no substitute for gathering in-person to worship and partake of the sacraments together. If you are able to and comfortable with going out, go to Reconciliation and Mass this week. If you aren't ready or able to go out quite yet, watch Mass online, and recall your favorite experiences of Easter Mass and celebrations of Easter in years past. What do you remember most fondly? Sit with your hopes about that day when we can worship fully in community again. What are you most looking forward to when that day comes?
5. Visualize hope.
We have all been living in caves of sorts this year. Contemplate emerging from your cave after many months. Imagine what it feels like to step out of the darkness and come into the light of day. Notice what you see, hear, feel, taste, and smell. Be aware of the newness after this period of deprivation. Jot down in your journal some notes about what you feel. Or use your awareness as inspiration for painting, singing, dancing, or expression in another art form.
No matter how the Lenten journey has been this year, let the Resurrection and its promise of new life inform your vision. Don't let these days pass by unnoticed, because Lent never lasts forever; Jesus made sure of that.