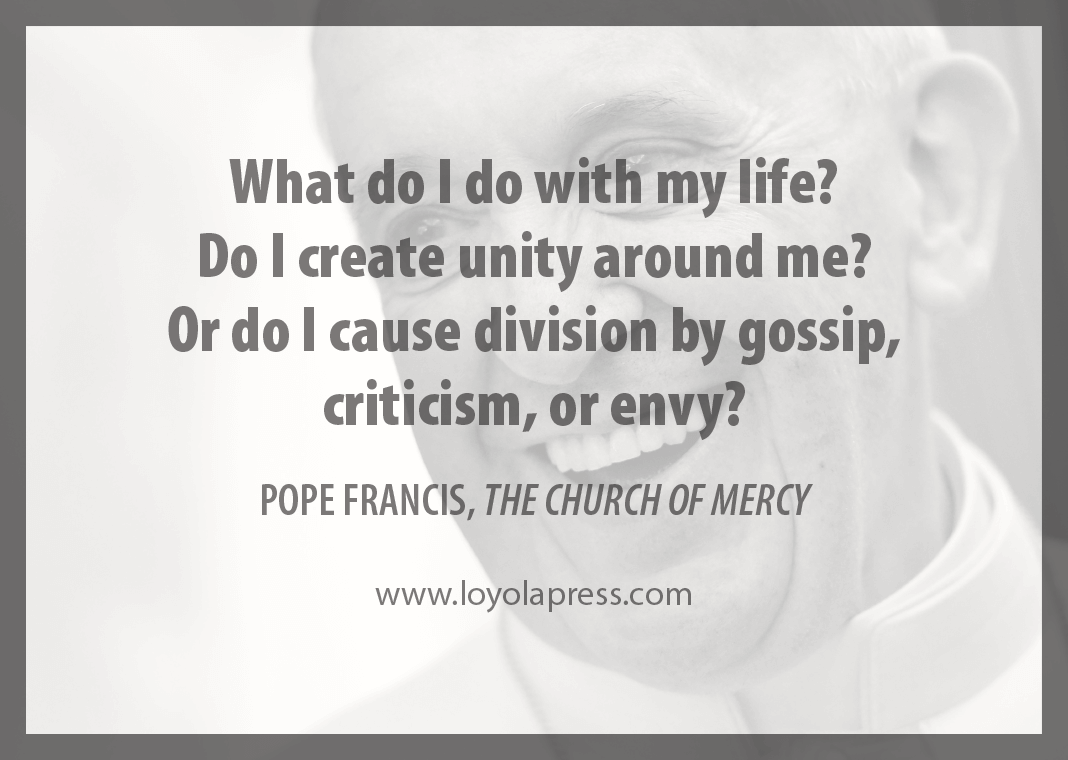 In celebration of the release of Pope Francis's book, The Church of Mercy, several of our dotMagis bloggers will be sharing reflections based on the words of Pope Francis.
Few of us gossip out of delight in maligning another. My suspicion is that most gossip arises from either a misguided desire to defend oneself against another who is perceived as harmful, or in order to connect more strongly to others in our social groups.
When in conflict with another, it's common to talk to one's friends in order to sort out one's feelings and discern how next to act. Certainly in many friendships, conversations are often centered on discussing relationships with others and offering advice and support. How, then, can we avoid gossip?
Pope Francis's words offer us a clue as to where to draw the line between gossip and heartfelt conversation: does the conversation aim to work toward unity and reconciliation, or is its aim self-assertion or putting down others?
A Jewish tale tells the story of a man with a tendency toward gossip who went to see a rabbi. The rabbi asked the man to bring him a pillow full of feathers. They then went to the highest floor of a tall building where the rabbi asked the man to cut open the pillow and let the feathers fly. He then instructed the man to gather up all of the feathers. The man was horrified at the impossibility of the task, for they were now widespread. He realized the ways in which gossip spreads in directions that he never intended, and went home contrite and determined not to gossip further.
I suggest four ways to avoid the temptation to gossip and criticism:
We can meditate frequently on our own shortcomings and how we might feel if our shortcomings spread like feathers.
We can speak directly to those with whom we are in conflict rather than using gossip as a passive substitute for active dialogue.
In interpersonal difficulties, we can ask our friends to help us to see our own shortcomings in the situation and the other's good. Here, true friends help us work toward restoring unity in relationships.
We can actively meditate upon some good character trait of the person whom we are tempted to malign. Gratitude for others' good gifts is a natural antidote to criticism and gossip.
What would you add to the list?