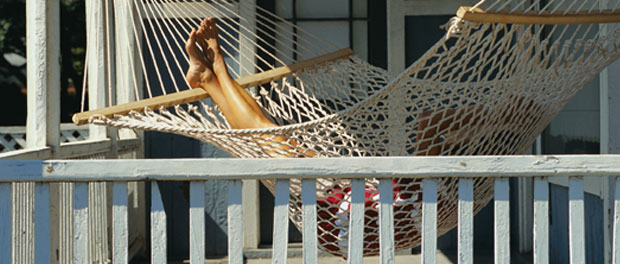 Summer is here (or almost, depending on your counting). I confess to over-planning at the beginning of summer because the weather's right and I feel energized by the extra daylight to get a lot done! But let's consider another worthy goal for these months: rest. Here are four suggestions out of many possibilities.
1. Create a comfortable space, away from television, computer, and other distractions.
The best anniversary gift my husband ever bought me was a hammock. It goes up every spring, and I commit to spending time in it every day. It's almost impossible to do anything when you're in a hammock—you are left with gazing into the sky or closing your eyes altogether. Sometimes I read in the hammock, but usually that leads to napping, which is even better.
Create a little environment that removes you from household activity. For heaven's sake, leave your cell phone far away from this environment. It might be a lounger on your small city balcony, or it might be a comfortable chair in the spare bedroom that is unoccupied unless you have guests. Make the space beautiful, quiet, and soothing. Then commit to spending time there regularly, every day if possible.
2. When / if you go away for a few days, resist the urge to take work with you.
I used to drag along letters to answer, books to finish reading, and even business mail to sort when we would go on a long weekend away or on a vacation of a few days. I finally stopped doing that, because "stuff" related to tasks and responsibilities merely brought along my usual stress. I wasn't resting, just carrying my anxiety to a different location.
Some of us must force ourselves to relax and not be on task. Be strict with yourself as you're packing for that getaway or vacation. Force yourself to sit around with nothing to do—if you face enough "empty" hours, you might actually begin to relax, take naps, and enjoy the art of being present.
3. Take part in activities that help you relax.
Rather than watch television on summer evenings, often my husband and I play cards. This has become our exclusively summer activity—for some reason we're not attracted to it during the winter. It's a back porch thing to do.
Whether you garden, draw, knit, walk, visit museums, cook, or ride your bike, if that activity helps you unwind and breathe more deeply, make regular time for it this summer.
I should also add that, depending on your temperament, do this activity alone or with others. Introverts generally refuel by being alone, but extraverts relax better when they're with their favorite people. Decide what is best for you.
4. Decline invitations.
Just about everybody is more active during the summer, and so we're more likely to receive invitations to backyard barbeques or events at the park or beach. Give yourself permission to say no, graciously, if what you're fantasizing about is lounging in the backyard with iced tea and a pile of magazines you've been waiting to read.
Plan your rest. Plan other possibilities around your rest. If you don't insist on keeping some time for yourself, that time will become absorbed into everyone else's schedules.
How do you rest in the summertime? What have you learned about rest-activity balance over the years?