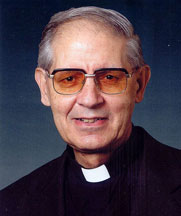 Fr. Adolfo Nicolás, superior general of the Jesuits, recently talked about the New Evangelization at the synod of bishops meeting in Rome this month to discuss the Church's missionary outreach. Speaking as the head of a missionary order and as a missionary himself (he spent most of his life in Asia), Fr. Nicolás offered seven principles for missionary work:
The importance of "the way of humility" to communicate the Gospel.
The need of stating "the truth of our limited and imperfect humanity" in everything we say and proclaim, without any trace of Triumphalism.
The simplicity of the message we try to communicate, without complications or excessive rationalizations that make it opaque and not understandable.
Generosity in acknowledging the work of God in the life and history of people, accompanied by sincere admiration, joy and hope whenever we find in others goodness and dedication.
That the most credible message is the one that comes from our life, totally taken and guided by the Gospel of Jesus Christ.
That forgiveness and reconciliation are the most helpful shortcuts to the heart of the Gospel.
That the Message of the Cross is best communicated through the death (to the self and to limited goals) of the missionary.