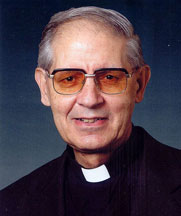 America Magazine has published an address of the Superior General of the Jesuits, Very Rev. Adolfo Nicolás, SJ, who recently met in Chicago with the board chairs and presidents of the 28 Jesuit colleges and universities in the United States. His subject was spiritual leadership in Jesuit institutions.
[I]n the understanding of St. Ignatius, the principal function of a leader is to help the members of a community grow to become the living presence of God in the world. In the Ignatian concept of service, growth leads to transformation. If there is no transformation, then the school or the parish is not Jesuit. The ultimate objective is an individual's transformation and, through individuals, the transformation of society. There are no instantaneous transformations, even though sometimes we are attracted to the idea of sudden, painless, effortless change.
Jesuit institutions exist, he writes, to evangelize: "Leadership at a Jesuit institution is about evangelization—for Jesuit institutions exist only because of the particular, scripturally based faith perspective that led to their establishment."
In our pluralist age, some might perceive this "scripturally based faith perspective" as but one among many. Rather than force our beliefs on anyone, some say, it is better to find common language. But Father Nicolás reminds us that Jesuit institutions are rooted in a spirituality of encounter with the living God, which has shown itself over history to give rise to an earnest desire to find God in all things. That is an excellent starting point for all forms of inquiry proper to the university.