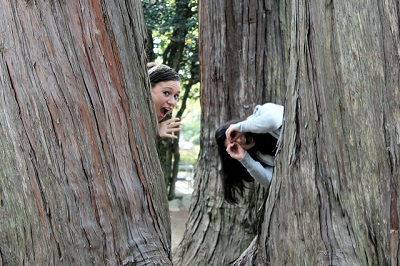 In the discussions among my theology student peers, the contemporary mantra, "I'm spiritual but not religious" comes up frequently. Some of the undergraduate students I work with may identify this way. Many Christians cringe at this expression, but to even begin to understand where these people are coming from we need to expand our understanding of spirituality.
A unique thing about Ignatian spirituality is that while it is rooted in Christian tradition, it does not explicitly have to involve God. The practices of reflection, discernment, and self-awareness can simply be "a way of proceeding," to use a Jesuit expression. This can apply to the lives of people in all traditions. Spirituality characteristically rises from within and informs one's outward actions. This may or may not involve belief in a higher power.
Religion today is losing its mysticism. This is probably why we find many Westerners looking to the spiritualities of the East. Let's see another side of spirituality. I recently discovered this parable once shared by Anthony de Mello, SJ:
The Master once referred to the Hindu notion that all creation is "leela"— God's play—and the universe is his playground. The aim of spirituality, he claimed, is to make all life play.

This seemed too frivolous for a puritanical visitor. "Is there no room then for work?"

"Of course there is. But work becomes spiritual only when it is transformed into play."
For many of us play is something that comes after the "seriousness" of spirituality, religion, or prayer. It is outside of our work, our religious practice, and even our relationships! But play involves the tapping into something deeper within ourselves. When we play we discover joy and allow ourselves to be vulnerable. Why must our religious practices or relationships or work be rigid and cold? The answer is that they don't have to be!
This new "playful" perspective makes spirituality available for everybody. It is universal. As Christians, part of evangelizing is helping others tap into the divine, whether they name it as God or not. And for us, a deepened understanding of spirituality can deepen our own outward religious practice.
Image by chamzy90 under Creative Commons license.