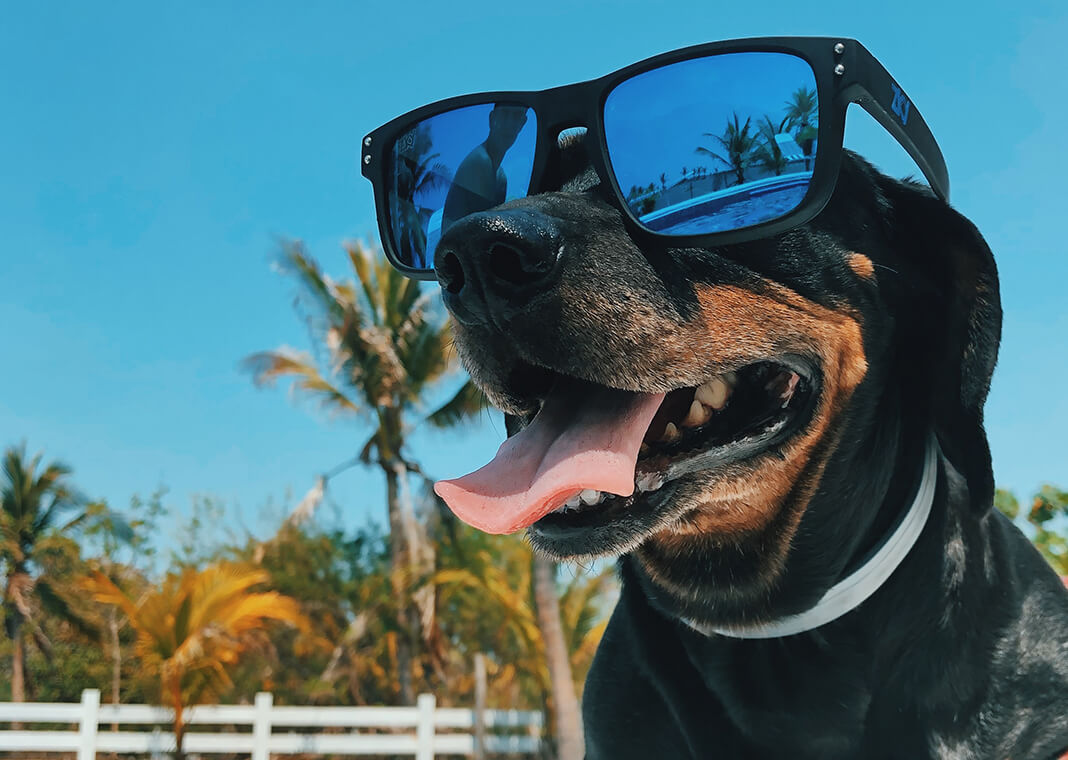 In the South especially, the weeks from mid-July to mid-August are called the "dog days" of summer. The science behind the heat is that Earth's tilt causes the sun's rays to hit at a more direct angle and for a longer time, hence hotter, longer days. Science aside, I know that it can get so hot and humid here that it's said the weather is not fit even for a dog. The effect of this phenomenon, at least where I live, can be a bit of mental and physical lethargy, stagnation, and just feeling blah. Despite our having air conditioning, just knowing how hot and humid it is outside causes us to feel a general disinterest in most things.
Over the years, I've noticed that my spiritual life can have dog days also. My prayer will be fruitful, and then it seems to take a nosedive until it becomes a listless block of time. The thought of sitting still in prayer loses its appeal to me. That's when I use my experience with the summer heat to help get me back on track with prayer.
For example, sometimes it seems the dog days will last forever, with no afternoon showers to cool things off or no cool spell in sight. When that happens, I have to remind myself that the heat will eventually change to cooler temperatures. I think of how nice that first day of fall will feel, when I'll need a light jacket. Similarly, when prayer is difficult, I try not to panic. I think back to times of consolation, especially those that happened during previous prayer. I trust that God, who placed me in consolation, is still with me and will bring me through this dry time. It's a matter of perseverance.
During the summer, I must constantly remind myself to stay hydrated, especially if I'm outdoors. It's the same for my spiritual life. When prayer is dry, hydrate! Just as water is crucial for providing the body with fluids, so is prayer crucial for providing our inner space with what keeps it alive. Prayer keeps my inner being attentive to God's presence in and around me. When I have difficulty praying, I don't give up. I still pray every day, giving myself a boost of something "cool," such as spiritual music or videos during my regular prayer time. I refresh my prayer by changing my space or method of praying.
When it's an especially long, hot day, I hunker down inside, accommodating my activities to the weather. Being removed from the heat takes my focus off the weather, making me think more clearly and boosting my spirits. Adding something to my prayer routine helps get me out of the doldrums. I might call someone and offer to pray with that friend. Or I might visit with someone with whom I've been out of touch. Maybe I'll prepare an extra meal for a homebound friend. Doing something kind for others takes the focus off myself and puts it on what's important: helping others. Being of service is one of the main ways to snap myself out of the spiritual blahs.
The dog days of summer are real and guaranteed to be around in years to come. (It's the reason God made cold watermelon and snow cones!) The same is true of the dog days of the spiritual life. But with a little planning and creativity, we can get through unscathed. Just remember to persevere, hydrate with prayer, and serve!