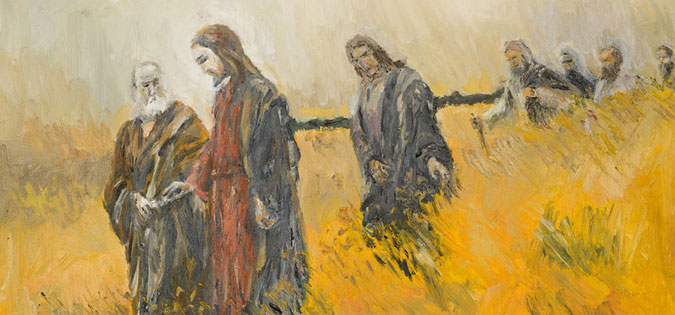 This post is based on Week Six of An Ignatian Prayer Adventure.
There was a time in my life when I didn't really know Jesus. Though I had grown up in a Catholic home hearing of God, praying the Rosary, and hearing countless stories from my grandmother of how Mother Mary had interceded to protect her family on a number of significant occasions, I had rarely paid much attention to, or had really connected with, this person called Jesus.
It was only as an adult that I made a conscious and deliberate decision to find out more about Jesus and to really get to know him. I spoke with a priest-friend of mine and asked how I could best get to know Jesus. He responded: "Think of Jesus as a new friend that you're getting to know. You need to spend time with him, to talk to him and listen to him. Just like any friendship, it takes time and effort, and it's a two-way street. Don't forget Jesus also wants to spend time with you and to be in relationship with you. Jesus loves you."
My friend recommended that I start with reading the Scriptures, the living Word of God. The Bible is the source from which we can delve deeply into the life and ministry of Jesus, from his infancy to his Death and Resurrection. What was Jesus' family life like? What were some of the things Jesus actually did? What did he say? How did he treat people? How did people treat him? What moves me about Jesus? What inspires or challenges me? What is Jesus communicating to my heart?
Together with reading the Scripture, I was also encouraged to attend Mass as often as possible—not just on Sundays! At Mass, not only do we hear the Word, but we also receive the living presence of Jesus Christ in the Eucharist. It is here that we have a physical encounter with Jesus: Here is my body, given for you. Mass provides a beautiful opportunity to take time in an otherwise busy day to consciously sit in the presence of the person I want to get to know and grow with in love.
I started attending prayer groups and spiritual retreats that broke open the Word of God and helped me to understand more deeply the person of Jesus. The more I came to understand Jesus' way of life and the Gospel message, my love and desire to make time for Jesus grew in my heart. And so I started making time for Adoration of the Blessed Sacrament. Sitting in silence and prayer, in the presence of Jesus in that particular way, I trusted, and continue to trust, that he is working in the depth of my heart and that grace is being bestowed. The gratitude and love that wells in my heart is a sure sign of this encounter, as is my desire to continue spending time with Jesus.
I am also grateful to St. Ignatius for the gift of imaginative contemplation, through which I can enter into the scenes of the Gospel in a particularly powerful way. I am in the room as Jesus takes the children into his arms and can feel his tenderness. I can feel the dirt under my feet as I walk along the streets of Jerusalem or Nazareth, and I can smell the aroma of food being prepared for those of us gathered around the table with Jesus. We're speaking, listening, telling stories and joking as friends do.
In all of these ways, I am invited to experience, and indeed, do experience, heart-to-heart encounters with the person of Jesus, my friend.
How are you making time to get to know Jesus?
As with any friendship, there are ebbs and flows. How do you maintain your friendships?
As you get to know Jesus, what moves you?