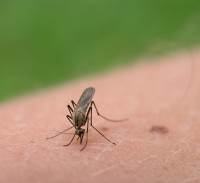 Just after a friend had introduced me to the concept of "God in all things," I found myself at a lake outside the city, picking up my daughter from summer camp. I am not an "outdoorsy" person by any stretch, and I was finding the morning rather challenging. I had already lost a hot dog to a wasp that was flying around bullying me for my lunch, and then the mosquitoes came out. Mosquitoes love me, and I was getting eaten alive. In my frustration, I found myself thinking of the discussion I had the day before with my friend. "God is in everything and everyone," he counseled me. "You just have to find Him." Feeling puckish, I took out my phone and texted him: "I can't find God in mosquitoes."
My friend got me started thinking about where God is in mosquitoes, but I let it sit with me and I still think about it today, years later. We tend to find God more readily in the beauty of this earth and in the good things that happen to us. I think we struggle more to find God in the everyday nuisances like mosquitoes—like children who keep losing things, bad traffic, or an irritating co-worker. It seems as though the harder life gets or the darker the moment, the more challenging it is to find God within it.
Why do we tend to put God outside of bad experiences and dark moments, even though that's where we need God most? God keeps faith forever, though, so I know He is undoubtedly in those moments, even when we fail to recognise Him. It's when we do recognise God in the nuisances and in the darker times that we can find greater comfort and strength to get through those moments. If we can learn to find God in the not-so-great every day, perhaps it will build our trust that God is with us when things are really looking bleak.
And maybe that's where God is in mosquitoes.