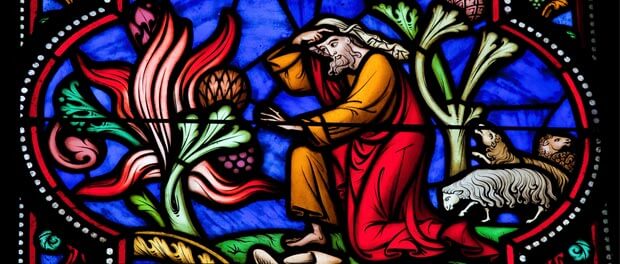 In Hebrews 11:1–40, there is a litany of thanksgiving to the "faith of the ancients," all those who went before us: Abel and Cain, Enoch, Noah, Abraham, Isaac, Jacob, Sarah, Moses, etc. This letter captures the faith of these people who "died in faith without having received the promises, but from a distance they saw and greeted them." They passed on the faith in the promise of the Messiah, who they never met in person, and it is their lives and belief that are the foundation for our Salvation history. All of these men and women stand with us today and pray for and with us.
Then there are those who were part of Jesus' life: those who birthed Jesus and raised him, like Mary and Joseph; those who readied people's hearts for the Messiah's coming, like St. John the Baptist; and those who walked with him as his disciples, like St. Peter, St. John, and St. Matthew. These men and women saw the promised Messiah in the flesh with their own eyes and, unlike many others in their day, believed and knew who Jesus was. They, too, stand with us and pray for and with us.
There are all who came after Jesus' time, all of the saints who passed on the faith through various religious orders and charisms, such as St. Ignatius, St. Francis, St. Augustine, St. Therese of Lisieux, and St. Teresa of Avila. Their faith is much like the faith of the ancients mentioned in Hebrews, believing but not seeing. Yet they profess a faith in the Messiah who came and a faith that there will be a Second Coming. They stand with us and pray for us, too.
This great cloud of witnesses (Heb. 12:1) stands with us, and it includes all who believed what had been promised regarding the Messiah. Along with the named saints stand our loved ones who pray for and with us. As we make the turn from the month of gratitude towards the season of Advent, let us thank God for all who came before us to prepare the way for us to believe.
We, too, are witnesses as we prepare to celebrate the birth of the Messiah. Like those who came before us, we hold on to the promise.