Hurricane Katrina occurred in hot, muggy August in the middle of Ordinary Time. Katrina, however, felt nothing like Ordinary Time; rather, it felt like the darkness of Good Friday as I had a first-hand look at the suffering of my loved ones who resided in New Orleans. Their suffering was situated in the overwhelming suffering by the many beloved Louisianans who resided in my home state.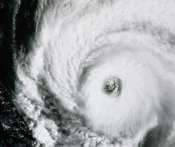 To say that Katrina was a major turning event in my life and especially my faith life is an understatement. Katrina brought me to my knees, and with my total surrender to God, the Holy Spirit entered into my life in full force. Within the confusion and disbelief in the months following the storm, I began to understand the gift of the Holy Spirit at work in our lives in Ordinary Time. I began to understand Pentecost, not as a single feast day to celebrate, but as a way to live our lives, fully aware of God at work through the Spirit.
To name all the moments of suffering embraced in grace, full of the fruits of the Spirit, would be impossible. There is one, though, that stays with me and I draw from on a daily basis. Our parish in Baton Rouge adopted an African-American parish in New Orleans which had literally lost everything. Many of the members sought refuge in Baton Rouge because their homes and everything they owned were washed away in Katrina's flooding. Within weeks of being within our parish, St. Gabriel's parishioners taught us a new prayer. Right after the Gospel and before the homily, we would all pause for a moment of silence and then sing this prayer:
Holy Spirit, come and fill this place.

Bring us healing and your warm embrace.

Show your power; make your presence known.

Holy Spirit, come fill this place.

Breath of God, we need a touch from you.

Shine down on us with the light of truth.

Stir our hearts and set our spirits free.

Holy Spirit, come fill this place.
There was power in this prayer. Joined in fervent prayer we were a community of wounded, confused disciples from different cities, from different backgrounds, from different cultures, carrying with us the hurt in our hearts, yet hoping for the joy of the Resurrection and begging for the gift of the Spirit in our lives. Praying this Holy Spirit prayer helped me see that we were like the disciples at Pentecost who were both confused and able to proclaim the Spirit at the same time.
This prayer remains with me today. I rock my children to this prayer. I say this prayer when I experience or witness in others hurt, sadness, grief, confusion, or anger. I pray this prayer on days when I am full of joy and hope. This prayer has brought awareness in my life of God at work in all things, especially during the mundane, ordinary rhythm of the majority of our liturgical year. This prayer helped me understand that Easter does come, and the joy we find in the Resurrection does not have to end, because Pentecost reminds us that the Spirit remains with us, even in Ordinary Time.