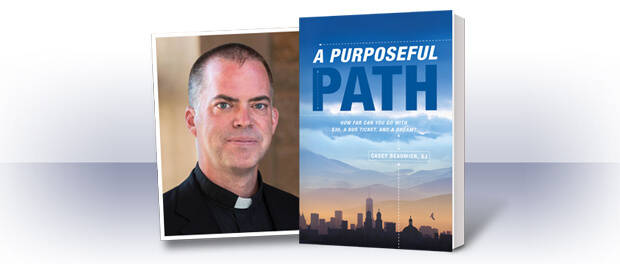 In A Purposeful Path: How Far Can You Go with $30, a Bus Ticket, and a Dream?, Casey Beaumier, SJ, tells the story of his "begging" pilgrimage during his formation as a Jesuit. The pilgrimage, required of many Jesuits, is a lesson in trust and humility. Different in destination for each Jesuit, the pilgrimage deepens reliance on God's provision as supplied through others' generosity.
Beaumier and his classmate Mark started on the Appalachian Trail. Shortly after their hiking experience, they met several retired men who invited them to lunch.
They quickly added another table to theirs. They treated us like sons who had returned to their fathers after a long journey away. They wanted to know all about our experience on the trail, what the weather had been like for us, and whether we stayed healthy the entire time. They were so encouraging and engaging! I was struck by this instant and magnificent kindness—it was the first of many amazing exchanges I had with the people of the great state of North Carolina.

After our lunch, two of these men drove us to the depot to see if we could use our bus tickets, which had been issued originally in Saint Paul to be used a couple of days later. The novice master wasn't sure how long we would spend or where we would end up on the Appalachian Trail. I suppose he provided this additional bus voucher as a backup in case we got into trouble and needed help getting to Winston-Salem. Earlier, when we were in Minnesota, none of us had any idea what the circumstances of the pilgrimage would be. Father Pat just wanted to do whatever he could to keep us safe and moving as best we could at the beginning of the journey. At the Asheville bus station, we received good news: we could use the tickets that evening. The Greyhound agent simply reissued them with a corrected date. Our kind friends arranged for our backpacks to be held at the station for our later retrieval, and then they invited us back into the car and drove us all around Asheville. They loved their city and told us all about it. They dropped us off near the Basilica of Saint Lawrence, a magnificent church. Neither of them were Catholic, but they loved this place and knew it would be important for us to see it. I don't know how they endured being in the same car with us, because we stunk so badly from our days in the wilderness. When they left us at the basilica, these two embraced us warmly and promised to pray for us as we continued our pilgrimage.

Mark and I stood in this magnificent basilica, a confluence of awe in our hearts, both for the beauty of the sanctuary in which we stood and for the gift of humanity God had just revealed through our new Asheville friends.

I crawled into a pew and knelt down. In the silence of that great church I prayed for the people of Asheville, especially for George and the others who had been so kind to us. Where did they come from? Why did they care for us in such a profound way? We showed up out of nowhere, and it seemed as if they had been waiting there at the diner for us the whole time, anticipating our arrival. They treated us affectionately, like family.
Have you ever been struck by an "instant and magnificent kindness"? How did it help your journey, whether physical or metaphorical?