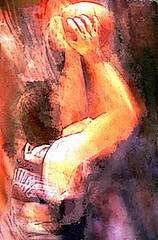 The NCAA men's basketball tournament starts today, and the Society of Jesus is well-represented by five teams.  The most surprising is my alma mater, St. Peter's in Jersey City, which last made the Big Dance in 1995.  The Peacocks made the tournament by winning the Metro Atlantic Conference tournament (ousting Fairfield along the way.)  St. Peter's is a big underdog to Purdue tomorrow in Chicago.
Two Jesuit schools, Xavier and Marquette, play each other in Cleveland in the first round tomorrow.  Xavier, a six seed,  is the favorite.  Georgetown, another six seed, plays either USC or Virginia Commonwealth tomorrow in Chicago.  (A Georgetown-St. Peter's matchup in the second round is a possibility.)  Gonzaga, the fifth Jesuit school, plays St. John's today in Denver.
Image by markartsf under Creative Commons license.