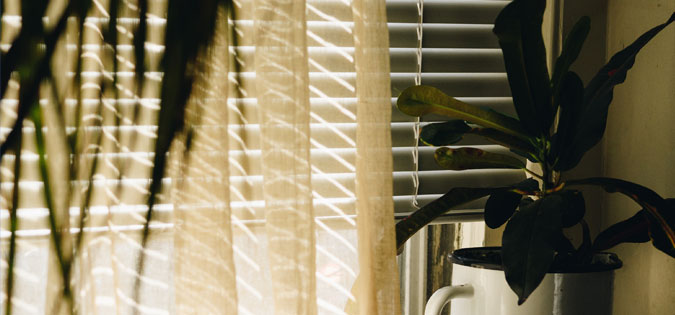 I remember the time I was praying silently in the living room very early in the morning, before my little ones were awake. It was prior to my father's death from cancer, when my sister and I, many miles apart, were praying simultaneously thanks to prearranged appointments on our calendars.
I sat alone, criss cross-legged in the middle of the room, with sunlight just beginning to filter through the partially closed mini blinds in front of me. Behind me, the L-shaped brown corduroy sofas framed my prayer space, as if welcoming a cloud of witnesses to sit and pray with me.
Years later, the image is still clear in my mind. As I sat with palms up on my knees, I imagined my two hands gripping the cords of the window shades, which refused to budge. I recalled a recent incident when our daughter was trying to pull up the blinds, but she lacked the strength to do it. Oh, how she longed to accomplish it herself! My hands were below hers, waiting, waiting. I couldn't act, because her tight grip was an obstacle to my gentle holding.
"Why am I recollecting this image, God?" I asked the Divine One.
Surprisingly, I was aware of God's hands below mine on the cords of my vocations as wife, mother, employee, and child of God. "Let me lift the shades," God said. "Let me do the heavy lifting. I know you want to help, but you cannot do it without me, and your efforts are counterproductive. Just step out of the way. Let go. Let me."
This is a lesson I still need today: surrendering control so that the initiative of God can be accomplished. It pops into my head as if it were yesterday.
One of the ways that St. Ignatius knew something was from God was that its effects were long-lasting. For me, this prayer experience fits that category. Thinking of my meager attempts to save myself and my surroundings, I need this reminder to get out of God's way.
I continue to try to force "God's will," tugging, pulling, and futilely yanking "blinds" that are heavy and unresponsive. After all these years of believing in Jesus, I still forget to pray first, ask God for confirmation of my choice, and only then get to work!
Yes, God wants me to participate in the reign of God, but not as the Savior or Lord of the plan.
God can easily lift the blinds and let light pour into my heart, when I get out of the way. I pray for the grace!
In what ways am I trying to control something, thinking I have the skill, strength, or wisdom to remove blinders?
Am I getting in God's way by insisting I know better?
Photo by Kelly Sikkema on Unsplash.