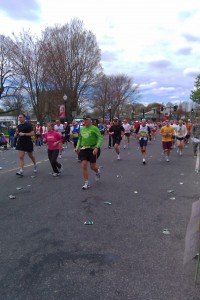 I just came from watching the 114th Boston Marathon.  An awesome sight!  It got me thinking about the ten best reasons why a marathon is a metaphor for life.  My votes follow– what are yours?
1. It's about the goal, not the suffering along the way.
2. One can do great things if you do them out of love.  (There are two options: love of self, or love of others.  And both can be to God's greater glory, though love of self can more easily become selfishness.  Most of the marathoners I saw were doing it for love of others–raising money for cancer research, or a loved one, or in the case of the young man in yellow toward the right of the picture, kids with severe disabilities at the Boston College Campus School.)
3. We surmount struggle with the support of others.  (People cheered everyone even hours into the race, and you could see how much it meant to them.)
4. Some goals in life are more noble than others, more worthy of the great dignity that human beings can manifest.
5. Winning a race is great, but it is made meaningful to everyone because others are willing to risk losing.
6. Pace, don't sprint.  The race is long.
7. The most glorious finish is only for those who have struggled over and over and over again.
8. There are no shortcuts.
9. The great stories are not only about those who win, but about those who have overcome great difficulties with whatever situations life has brought them.  (One example is the Achilles Freedom Team.)
10. We are all greater when people show us that it is possible to be great.