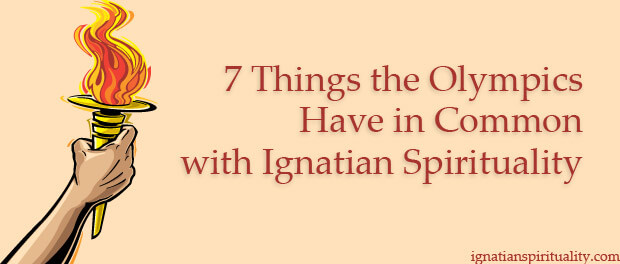 I love watching the Olympics. Summer or winter games, the spirit of camaraderie and competition draws me to the television. As the countdown to the next Olympic Games shortens, I'm thinking about what the games have in common with Ignatian spirituality.
History—The modern Olympics date back to 1896, but the games originated in ancient times. Ignatian spirituality is a tradition dating back to the 16th century.
Magis—Seeking the greater, the excellent, the best: this is how athletes achieve the right to compete on a world stage. This is also how we are called to serve Christ.
Imagination—Part of the allure of the Olympics for a child is imagining that one day maybe he or she can bring a gold medal home. For followers of the Ignatian way, imaginative prayer invites us to a closer relationship with Jesus.
Discipline—Any athlete can tell us that discipline is needed to maintain skills and improve. Discipline allows one praying to push through the difficult moments or the times when prayer feels dry or distracted to find the graces God has in store.
Paying attention—An athlete looks for an optimal moment to make a push toward the finish line. An Ignatian looks for God's presence in all things.
Broad appeal—I'm not the only non-sports fan who is mesmerized by the Olympics and its bringing together of nationalities. And I'm delightfully surprised by the ecumenical appeal of Ignatian spirituality.
Service—There are many volunteers who work behind the scenes to make a huge event like the Olympics run smoothly. We are called to live in service to each other.
What do you think the Olympic Games can teach us?