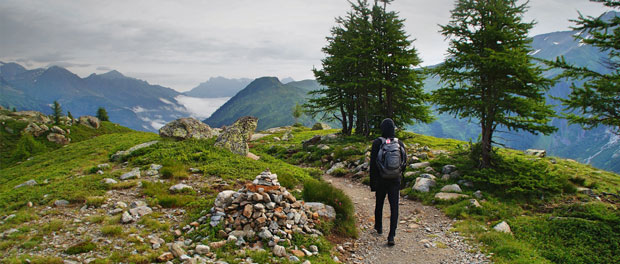 I can say, with no reservations, that everyone experiences God.
We might not all use the same language for the experience.
We might not recognize the experience as having anything to do with God.
We might not share that experience with others, because it is deeply private or because we're not sure how to communicate it.
But the Divine seeks us, desires us, and waits for the opportunity to meet us. Fortunately for us, God meets us where we are and in ways we are able to perceive the encounter.
A friend of mine described a field trip she took with some teenagers who were struggling, some of them in trouble. They hiked up a mountain, and when they stood at the peak and looked out across the breathtaking scenery, one of them uttered an expression I cannot print here. To me, it would have sounded like profanity. But my friend knew that this was that kid's only way to respond—in awe—to what lay before him. He experienced God then, but he possessed a limited vocabulary for the encounter.
In the book Days of Deepening Friendship, I describe what I call significant moments, situations that a person might realize—at the time or in retrospect—are actually experiences of the Divine:
You experience a sharp, unmistakable desire to connect with God or with authentic spirituality as you understand it.
You become acutely aware of God's presence through an overwhelming sense of peace, gratitude, love, awe, or joy.
You understand clearly and powerfully something about your life.
You discover an answer you have been looking for.
You witness divine love and power in a situation, such as rescue from danger or the healing of illness.
You experience vivid awareness of life's wonder/mystery/beauty.
You experience vivid awareness of others' suffering, which leads you to compassion.
You are able to accomplish something beyond your own abilities or knowledge.
You are able to bear something beyond your own strength or endurance.
You witness a change of circumstance that seems miraculous, or at least right on time and in the best way.
You are touched to the core by a work of art, which turns simple appreciation into an occasion for transcendence.
Your spirit is awakened mightily by a song, a passage of Scripture, a poem, or the words of someone speaking.
You know, suddenly and unmistakably, what you need to do, what the next step of your journey will be.
You receive the help you need, possibly before you even know you need it.
Another person, for no particular reason, commits an outlandish act of love or kindness, for you.
Feel free to add to this list. When you talk with other people and hear their stories, listen for clues that God was present in a situation or a conversation. And please remember, Divine love comes looking for us, and finds us no matter who we are or what we've done or how much we struggle or don't understand. Divine love knows that our desires are trying to take us to God.