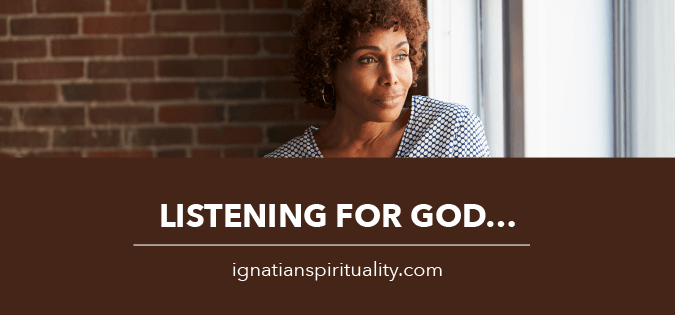 Ignatian spirituality offers us a variety of prayer tools to help us listen for God. One of these Ignatian prayer tools that I turn to frequently is the triple colloquy, which is introduced in the First Week of the Spiritual Exercises, when we are meditating on sin.
A colloquy is simply an intimate conversation. In the Spiritual Exercises, it is offered as a way of having an intimate conversation with Mary, with Jesus, and with God the Father. It is a deep sharing of ourselves with Mary, Jesus, and God that echoes the authentic speaking from the heart that we might do with a close friend, our spouse, or our children. I often think of it as a moment where heart meets heart. Our hearts meet the heart of Mary or Jesus or God the Father. The triple colloquy, in which we speak about our sin or the sorrow we notice in the world, involves three movements.
First, I stand with our Mother Mary. I share with her whatever is on my heart. Maybe it is pain in my life, a sinful tendency that I cannot overcome, or suffering in another person. I speak to Mary openly, freely, and honestly. I listen for what she says to me.
Then, I imagine walking shoulder-to-shoulder with Mary to go and see her son, Jesus. I often imagine Mary carrying what I shared with her to her son as a way of symbolically turning over my heart. Together the three of us continue our heart-to-heart conversation, with me speaking honestly and openly to Jesus as I would a friend. I wait and listen to what he might offer me.
Finally, the three of us walk together to stand before God the Father. Often, Jesus is carrying what is in my heart now to God. I imagine God sitting on a throne surrounded by angels and saints, and Jesus, Mary, and I are standing before the throne. As I receive God's gaze upon me, I share my heart with God. As I do, I pray these three questions:
What have I done for Christ?
What am I doing for Christ?
What ought I do for Christ?
Just as I did with Mary and Jesus, I share and then pause to listen, paying attention to what God says with the same attentiveness I would give a dear loved one. There is comfort in the colloquy as my heart meets their hearts. The love that surrounds me and the love I feel for them opens me to healing, to mercy, and to love. This openness and softening of my heart help me hear the call to action.
This gift of intimate conversation with Mary, with Jesus, and with God the Father is available to each one of us. How might this prayer tool help you in your relationship with God? Where is your heart seeking to meet the heart of Mary, of Jesus, or of God, and to hear the response? I invite you to listen for God in colloquy, in the intimate conversation of heart meeting heart today.