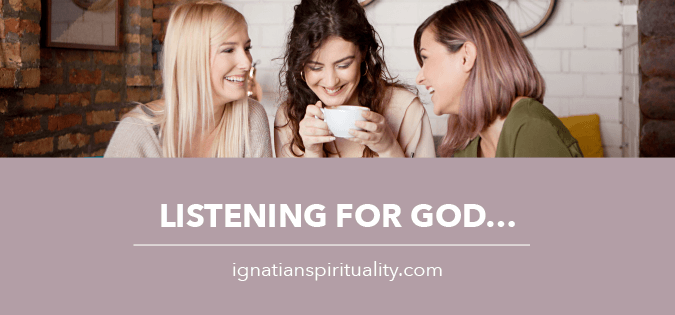 Do you ever have a moment when God speaks clearly to you through another person? I had one of those moments recently during lunch with friends. As is often the case, our conversation wove in and out of parenting woes and joys, to our children, to what was going on in our faith lives, to our hopes and our struggles, to what was going on in the world.
My friend, Kelly, asked me at some point what was new in my ministry. I shared with her how there were some new invitations coming for retreats and speaking that I was not sure if I would say yes to or not. She paused for a few seconds and then questioned me further about my hesitations. I shared with her my fears of being in front of a larger audience, the questions I often get about being a younger woman talking about prayer and spirituality, and my own self-doubt.
She listened to me for a bit and then got quiet. Then Kelly looked me straight in the eye and said, "Becky, do you know how often we talk about wanting to hear from someone who is living our lifestyle and incorporating faith into our lives, our marriages, our work, and our parenting? Every time we get together, our conversation turns to how we long to hear from someone who lives a life like we do."
I nodded my head in agreement. Before she spoke again, Kelly raised her finger, pointed it straight at me, and said, "God is giving you, a woman who is living our lifestyle, who is married, who has children, and who has your ministry experience, the chance to speak about it, and you are considering turning it down? I can't believe it."
Her words pierced right through my heart and made my heart skip a beat. I froze and sat there stunned. As I came out of my stupor, I stammered a bit and tried to respond, but I couldn't. I realized that her words were the voice of God to me. She was right. Many times, I shared how I wanted to hear from someone juggling the roles I do and seeking to incorporate faith into all aspects of life. And honestly, there were stirrings within my heart of God nudging me to write and speak more about how to make room for God in the busyness of life. The truth was, I thought God would ask someone else, not me. Kelly's words, though, shifted everything in me and opened my eyes to see and hear what God had been trying to speak to me for months. I knew I could not ignore the invitations before me, even if I was afraid to say yes.
Lunch with my friends that day reminded me of how often God speaks to us through people—someone saying just the right thing to affirm what God is doing within us or what God is inviting us to do or maybe to teach us something new about God. Since Kelly's courageous words to me, I have been listening more to others I encounter not only to listen for what God might be saying to me, but also for what God might be teaching me about God at work in the other person.
What about you? How might you listen to God in other people?
After an encounter with one of our family members, friends, colleagues, or even strangers, we can pause, turn our hearts and minds to God and ask, "God, what went on in my time with this person? How did I experience you in this moment?"
Perhaps we might come to a new understanding of the other person or ourselves. Maybe the conversation opened our eyes to understanding a topic in a new way. Whatever arose in our encounter with the other person, we can stop and consider it listening for God in the people in front of us.